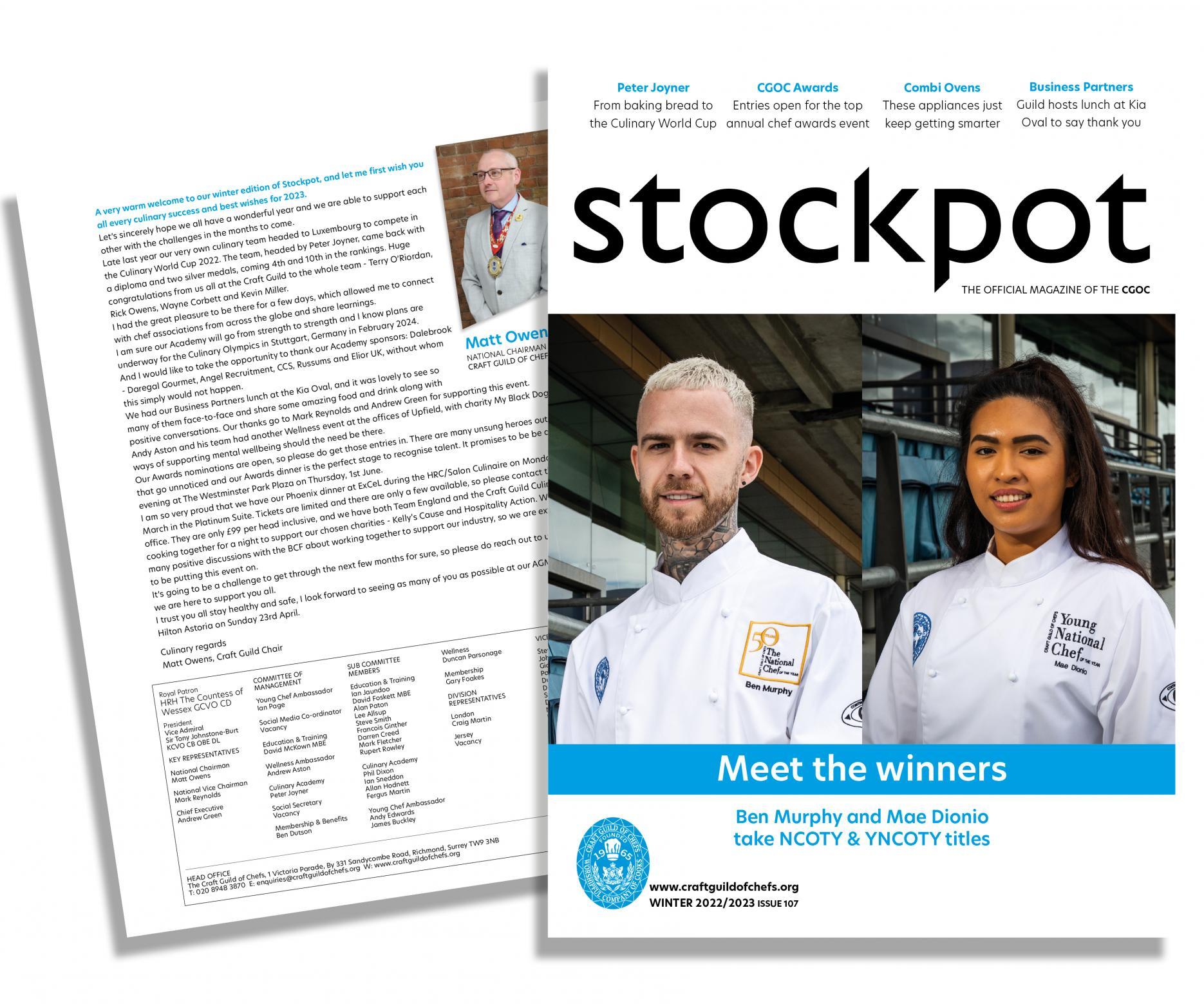 26th January 2023
Stockpot Winter Magazine made available to read online
The Craft Guild of Chefs has announced that their Stockpot Winter edition is now available to read online.
Matt Owens, chairman of the Craft Guild of Chefs, said in the foreword: "A very warm welcome to our winter edition of Stockpot, and let me first wish you all every culinary success and best wishes for 2023. Let's sincerely hope we all have a wonderful year and we are able to support each other with the challenges in the months to come.
"Late last year our very own culinary team headed to Luxembourg to compete in the Culinary World Cup 2022. The team, headed by Peter Joyner, came back with a diploma and two silver medals, coming 4th and 10th in the rankings.
"We had our Business Partners lunch at the Kia Oval, and it was lovely to see so many of them face-to-face and share some amazing food and drink along with positive conversations. Our thanks go to Mark Reynolds and Andrew Green for supporting this event.
"Andy Aston and his team had another Wellness event at the offices of Upfield, with charity My Black Dog sharing ways of supporting mental wellbeing should the need be there.
"Our Awards nominations are open, so please do get those entries in. There are many unsung heroes out there that go unnoticed and our Awards dinner is the perfect stage to recognise talent. It promises to be an amazing evening at The Westminster Park Plaza on Thursday, 1st June.
"I am so very proud that we have our Phoenix dinner at ExCeL during the HRC/Salon Culinaire on Monday, 20th March in the Platinum Suite. Tickets are limited and there are only a few available, so please contact the Guild office.
"It's going to be a challenge to get through the next few months for sure, so please do reach out to us at the Guild we are here to support you all. I trust you all stay healthy and safe, I look forward to seeing as many of you as possible at our AGM at the Waldorf Hilton Astoria on Sunday 23rd April."
The Winter edition includes:
Meet the winners: Ben Murphy and Mae Dionio takes NCOTY & YNCOTY titles
Peter Joyner: From baking bread to the Culinary World Cup
CGOC Awards: Entries open for the top annual chef awards event
Combi ovens: These appliances just keep getting smarter
Business Partners: Guild hosts lunch at Kia Oval to say thank you