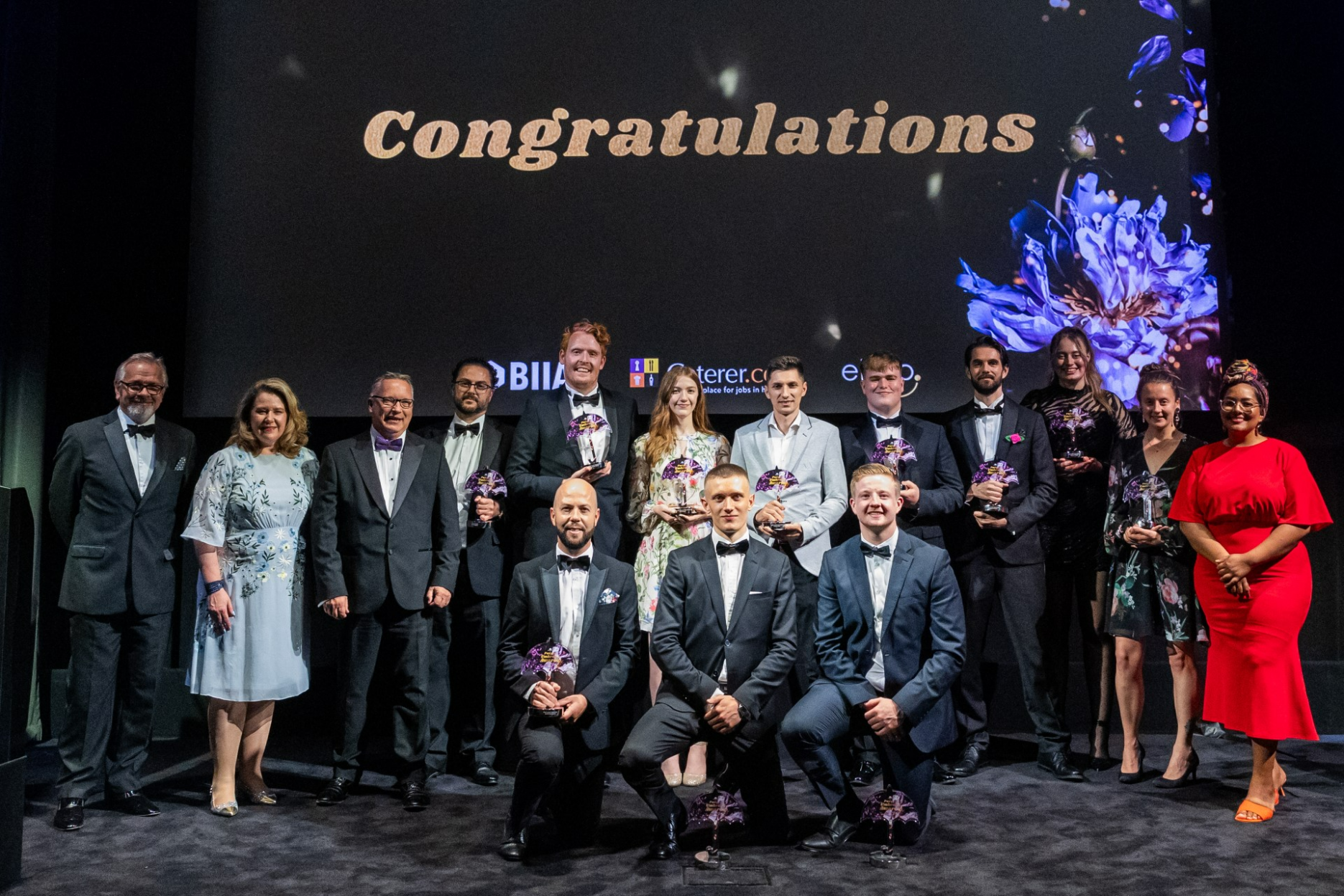 13th September 2023
Purple Umbrella Awards celebrate hospitality apprentices
Apprentices from across the UK's hospitality industry were celebrated at the Purple Umbrella Awards held at BAFTA 195, the British Academy of Film and Television in London.
Organised by Umbrella Training and hosted by 2012 MasterChef winner Shelina Permalloo, the awards were presented to chefs, staff, supervisors and managers from across the hotel, restaurant and foodservice sectors.
The apprentices were commended for their commitment to learning and their personal achievements over the past 12-18 months. Apprentices were nominated for the awards by their employers.
The winners were selected by a panel of hospitality experts, including Harry Murray MBE, Hospitality Action chief executive Mark Lewis, Be Inclusive Hospitality founder Lorraine Copes and Red Carnation Hotels' VP of people and culture Liz McGivern.
Umbrella Training founder Adele Oxberry said: "A huge congratulations to all this year's finalists and award winners. Hospitality is, and will continue to be, one of the UK's most amazing sectors, not only providing incredible value to the UK's economy, but to communities as well.
"These individuals form the backbone of so many hotels, restaurants, pubs and foodservice businesses, and having supported their employers and the industry over the last few years, they are now leading it towards a bright future. The judges had a tough task with such a high calibre of entries this year. Every one of the finalists should be very proud of what they have achieved."
The full list of winners included:
Best Level 2 Apprentice: Florin Tucan, The Fish Hotel, Farncombe Estate
Best Chef Apprentice: Eleanor Wright, The Pig at Combe, Home Grown Hotels
Best Level 3 Apprentice: Russell Johnson, Lime Wood Hotel
Best Level 4 Apprentice: David Chenesseau, Mayfair Townhouse, Iconic Luxury Hotels
Best Level 5 Apprentice: Ben Jeffrey, Ironmongers' Hall, CH&CO
Best Umbrella Alumni: Emma Mackey, Red Carnation Hotels
Best apprentice from another further education provider: Niamh Fagan, Farncombe Life Ltd, Farncombe Estate
Special Award: Piers Zangana, director, Susa Comms
Hospitality Passion Award: Alicia Morley Blackett, The Pig at Combe, Home Grown Hotels
Hospitality Spirit Award: James Walde, The Goring
Continuous Learning in Hospitality Award: Marshall Bax, The Pig at Bridge Place, Home Grown Hotels
Hospitality Dedication Award: Lewis Rosser, DoubleTree by Hilton Leeds City Centre, Valor Hospitality