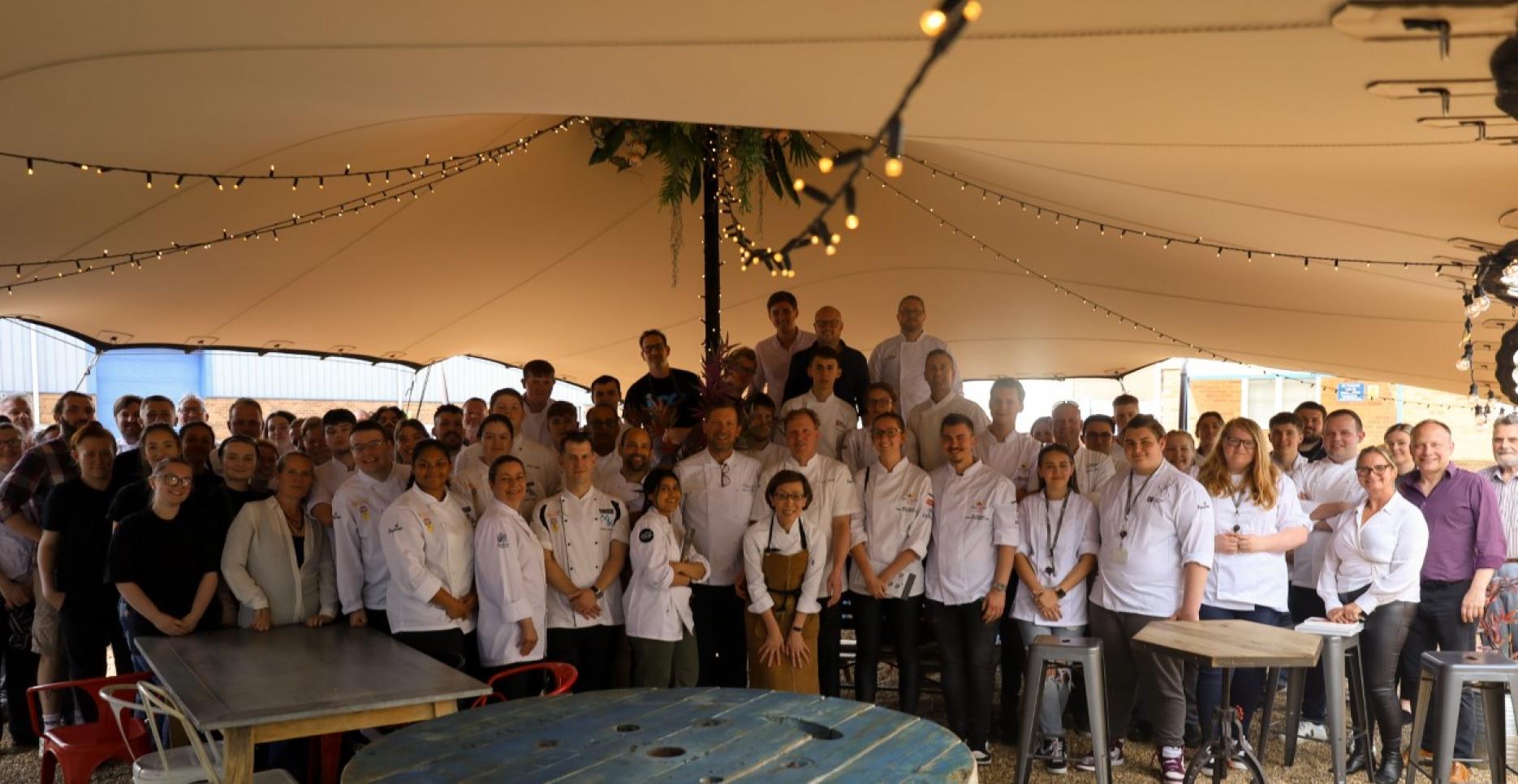 16th June 2022
A Passion to Inspire hosts Japanese Upskill Day
Twelve colleges including 36 students and 20 lecturers took part in the A Passion to Inspire Upskill Day that was centered around Japanese food and ingredients.
There was also over 30 colleges and 1,400 students who watched and cooked live via the A Passion to Inspire YouTube Channel.
Colleges attending on the day included New Suffolk College, Milton Keynes College, Doncaster College, Lincoln College, North Kent College, Cambridge Regional Colchester Institute, West Suffolk College Suffolk, Isle of Wight College, North Warwickshire and South Leicestershire, North Hertfordshire College and the University of West London.
Murray Chapman, founder of A Passion To Inspire, said: "One of the great things about all the chefs cooking and tasting today is that they are all different with their creative skills which is the brilliant thing about our industry.
"Everyone with us on the day – both in the room and online, had their taste buds and imagination taken to a new level. This shows how wonderful hospitality is as there is no limit to what you can achieve."
Benoit Blin and Steve Munkley, Akemi Yokoyama, Mark Poynton, John Jackaman, Barney O'Connell, Chris Lee, Adam Smith and Charlotte Silvester gave up their time to inspire the students and lecturers.
Reactions to Upskill Day: 
Munkley, vice president Craft Guild of Chefs, added: "What an amazing day, the level of commitment from colleges was brilliant and the students a credit to them. The masterclass by Akemi Yokoyama was mind blowing on Umami, Kombu and Koji complemented nicely by our 4 superstar chefs and Ed from Hallgarten & Novum wines. I am sure this will be an outing the young chefs will never forget."
Blin, executive pastry chef at Le Manoir aux Quat'Saisons, commented: "So happy to have been part of this fantastic opportunity for chef students from all over the country to learn about Japanese food @passion2inspire instructive & inspirational day." 
Akemi Yokoyama, chef and founder of Gohan, explained: "What a day! I was knocked out by the sheer number of the expected online attendees even before we started, but on site all students and lecturers with keen eyes and open minds turned up in their chef jackets! What a site!
"Fantastic line up of the chefs, the quality we don't get to see often in one place, each showcasing their interpretation of bringing the Japanese elements to the dishes. I am immensely happy to have been given the opportunity to talk about the two pillars of Japanese cuisine: koji and dashi, in line with umami.
"My highlight of the event was many, but at every mouthful I was so looking forward to everyone's reactions. It was particularly amazing that chef Benoit was taking the audience with the journey through his pallet. Thank you @passion2inspire to invite me to take part, and @ICE for their invaluable assistance, and for Bradley for the superb IT set up."