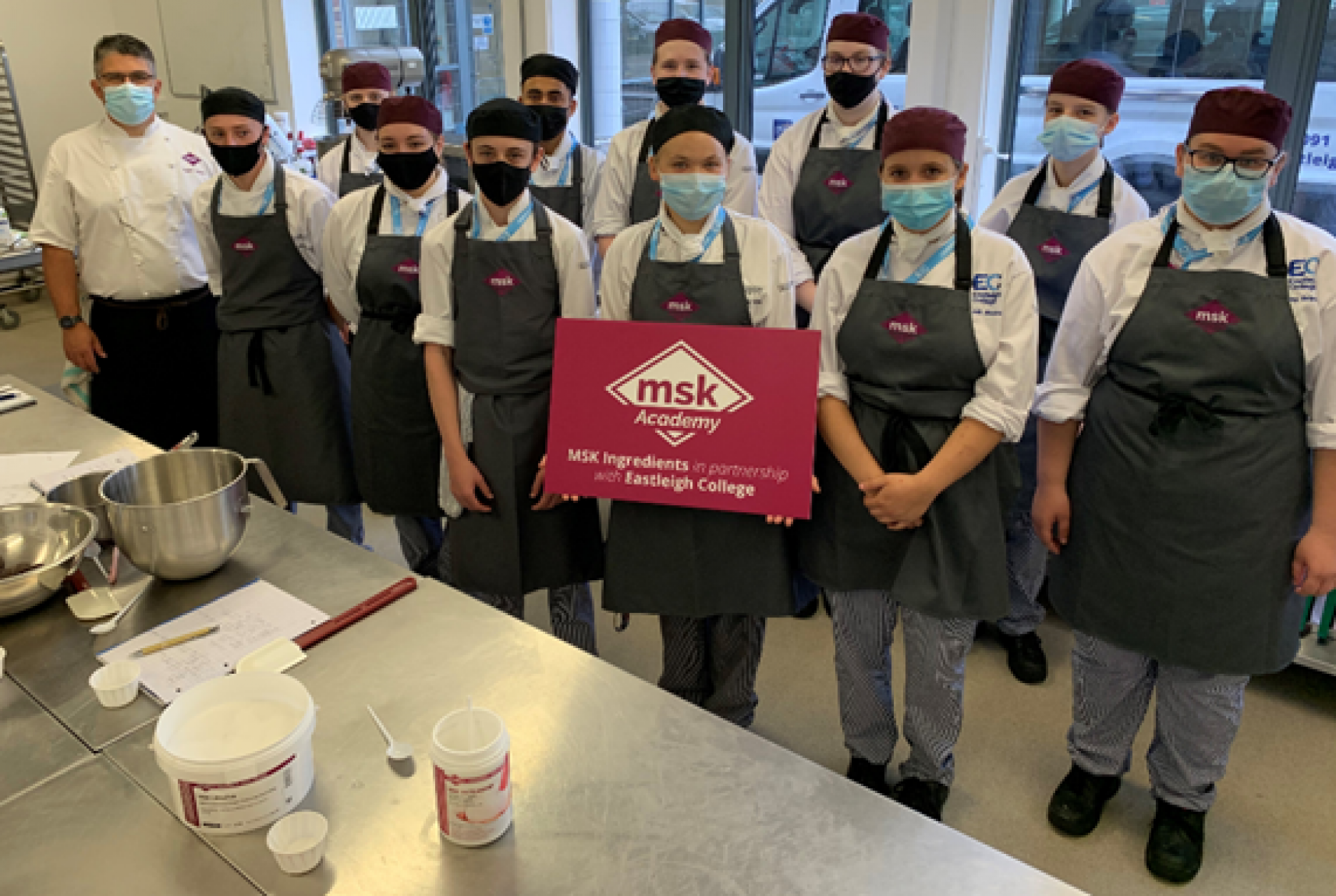 14th September 2021
MSK Academy opens first college in South
The first MSK Academy in the South of England has opened at Eastleigh College with a commitment to training future chefs.
Learners benefit from the partnership by having access to the highly functional MSK branded ingredients they can expect to use in industry.
Rupert Rowley, development chef at MSK Ingredients, Tools and Training explained why he chose Eastleigh College to be the next MSK Academy: "Hospitality is changing and MSK selects colleges with lecturers who are open to new modern techniques.
"I have known Greg Cheeseman professionally for many years and have watched his award-winning Hospitality and Catering Team at Eastleigh College grow from strength to strength with innovative menus in the Eastleigh College fine-dining restaurant."
Eastleigh College is the fourth FE college in the UK to become an MSK Academy, joining Sheffield College, Stoke-on Trent College and Leeds.
Greg Cheeseman, chef lecturer at Eastleigh College, added: "We have provided MSK with a dedicated kitchen on our campus where our L3 Advanced Professional Cookery learners, and our junior chefs will have the opportunity to learn modern gastronomy with MSK's specialist food ingredients."
Cheeseman was among around 650 industry professionals attending the 2021 Public Sector Catering awards at the Hilton Metropole Hotel last week and was shortlisted for the College Award.
The event proved to be a unique networking opportunity for the Eastleigh College Hospitality & Catering team to gain valuable new contacts to work with in the future from suppliers to prison caterers, school catering managers, care home caterers, other colleges and big companies like IBM and Sodexo.
He also used the trip to London to re-engage with existing contacts to secure work experience opportunities for Eastleigh College students later this year.
Pete Joddrell, deputy principal at Eastleigh College, commented: "To have a leading supplier to the industry come and give a masterclass to our learners is invaluable.
"After 18 months of disrupted learning, it is great to see practical teaching back at the college, I am delighted we have forged this partnership with MSK and hope it helps equip our learners with skills and experiences that they can take into the industry."