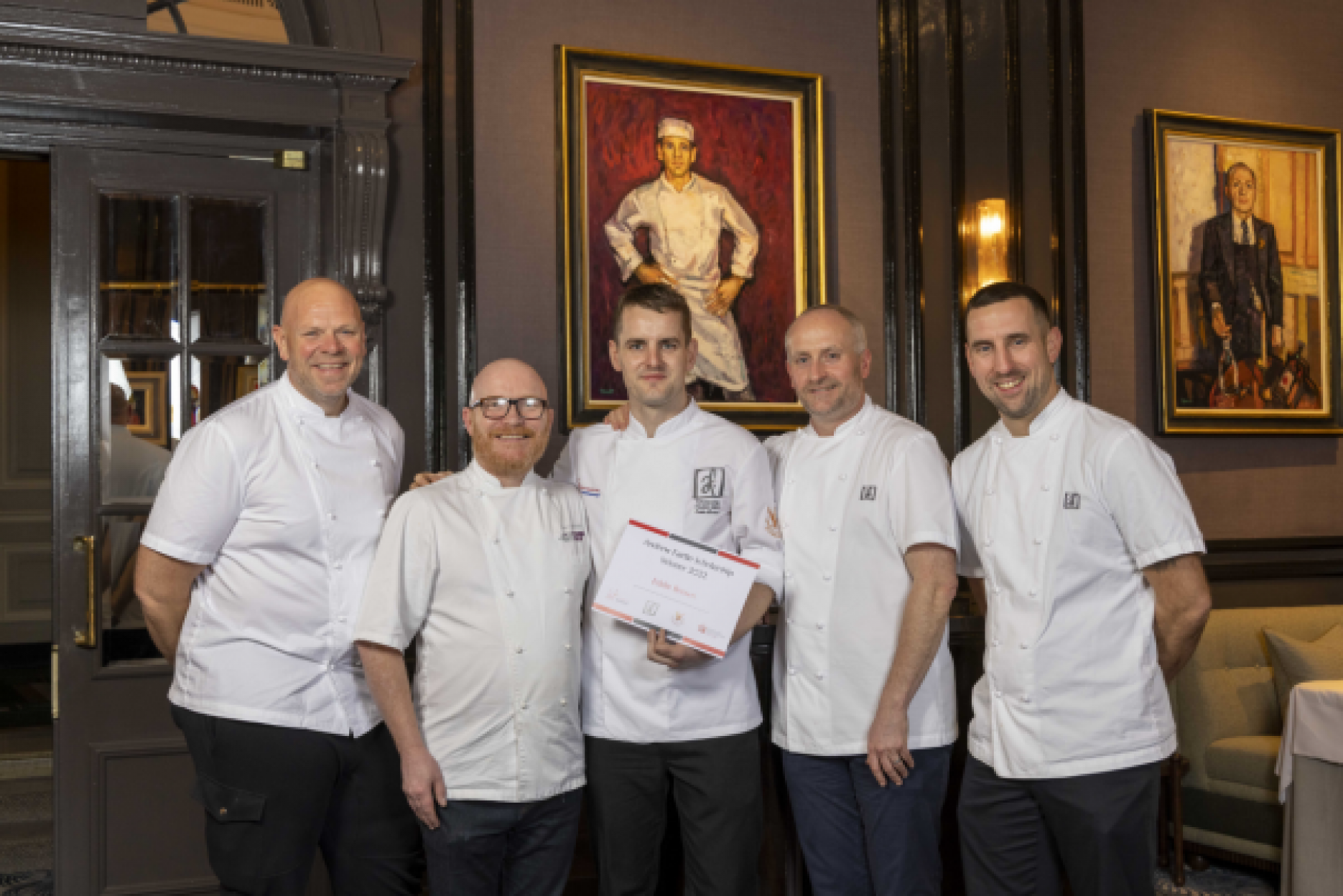 16th August 2023
Aspiring chefs working in Scotland invited to enter 2023 Andrew Fairlie Scholarship
Hospitality Industry Trust (HIT) Scotland has announced that the Andrew Fairlie Scholarship is once again open for applications from aspiring chefs working in Scotland.
It is an 'invaluable opportunity' for chefs looking to gain first-hand experience within some of the world's most renowned establishments. The initiative was launched in 2019 by the late Andrew Fairlie.   
Eddie Brown was awarded the scholarship last year, earning him industry-wide recognition as an Andrew Fairlie scholar and a 'once-in-a-lifetime' opportunity to build on his culinary education.
Stephen McLaughlin, head chef at Restaurant Andrew Fairlie, will be joined by fellow two Michelin starred Sat Bains, one star head chef at Cail Bruich and winner of Great British Menu Lorna McNee as well as Masterchef winner and National Chef of Scotland Gary Maclean.
The winner of this year's Scholarship will be taken on a two-day educational trip to France with Grand Cuisine. The winner will also gain hands-on experience at the two-star Restaurant Andrew Fairlie at Gleneagles, the three-star Core by Clare Smyth in London and the two-star Mélisse in Los Angeles, as well as receiving a bespoke chef's jacket. 
McLaughlin commented: "I am very much looking forward to seeing what Scotland's aspiring chefs will create and serve up to us this year. The judges will be looking to see a clear demonstration of the applicants' skills and knowledge but also want to see and feel their creativity, flair, and personality. 
"At the end of the day, we are not necessarily looking for a Michelin starred chef. What we are searching for is someone with a sharp eye for details and really clean set of skills. Someone who is driven to learn and improve their craft and to elevate themselves and others toward a higher level." 
To apply, potential candidates should complete an application which can be found on the HIT Scotland website. They will be asked what inspires them to be the best chef they can be, and about their proudest career moment to date. They will also have to design a dish to create on finals day.
This year candidates will need to display their 'innovation and expertise' by creating a potato dish which will be cooked and served to the judges at the final, along with some other culinary challenges which will be revealed on the day.
David Cochrane MBE, chief executive of HIT Scotland, added: "The scholarship is a fantastic opportunity for chefs that are looking to advance their career and to continue their professional development in this remarkable industry."