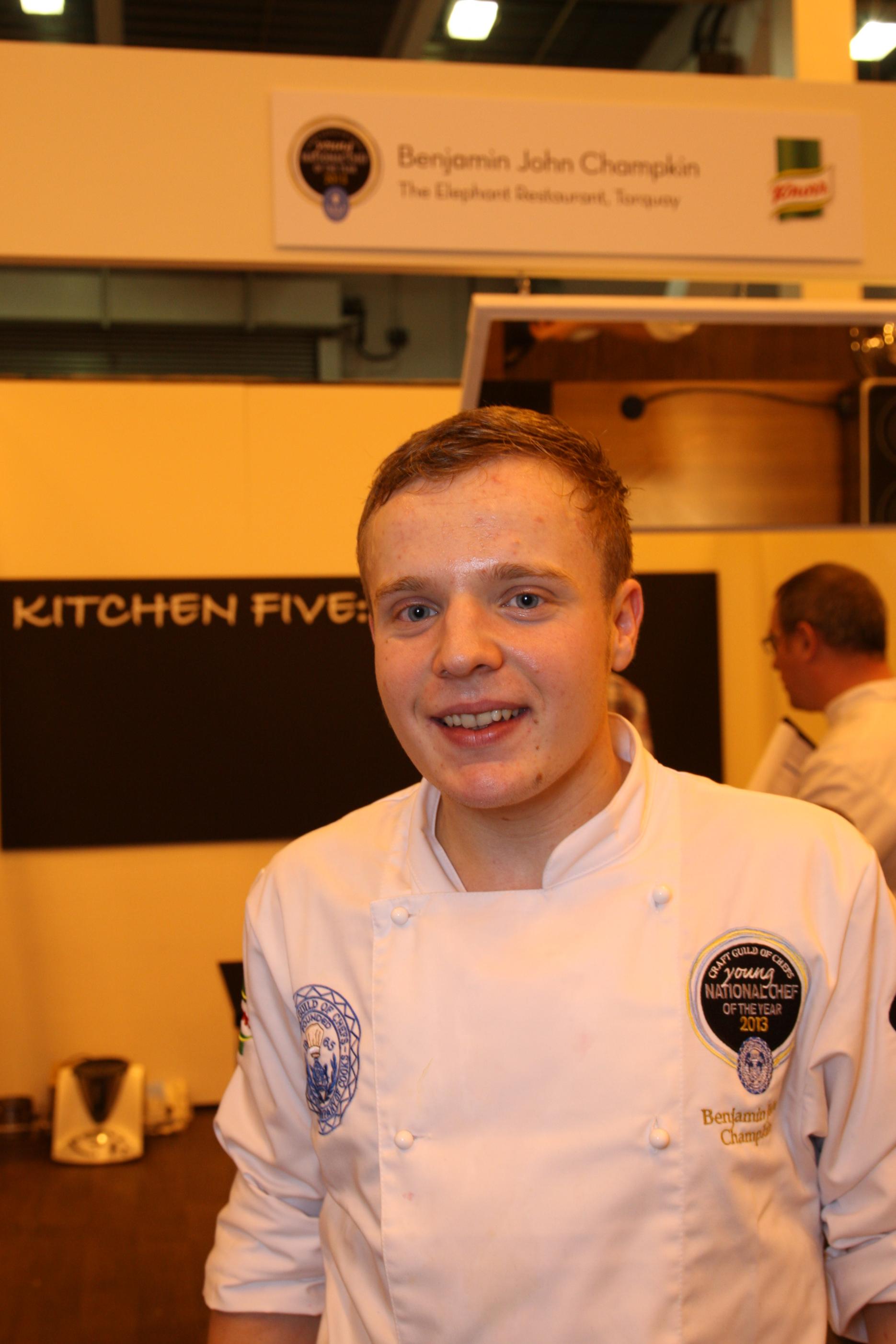 9th October 2013
Young National Chef of the Year 2013 revealed
Ben Champkin from The Elephant Restaurant in Torquay proved his worth by winning the Young National Chef of the Year 2013 title in the first competition of the day at the Restaurant Show at Earls Court on October 8.
He impressed the judging panel, which included the competition's chef ambassador Mark Sargeant, a former National Chef of the Year, who said he served up a great three-course menu.
It included starter of fallow deer, burnt onion, pickled apple and beets with roasted grapes; a main of rack of turbot, parsnip, lardo Iberico, fennel pollen, crisp sweetbreads, golden sultanas, and ver jus butter sauce; and a dessert of cherry Bakewell, cherry vinegar, yogurt and wood sorrel.
In second place was Ruth Hansom from The Ritz in London and, in third place, Daniel Akrigg from Rogan & Company in Cumbria.
Sargeant, who was invited to become the competition's first ambassador to inspire the next generation of 'ones to watch', said: "Ben demonstrated that he not only has the flair and passion to make a real mark in the industry, but understands fundamental cooking skills, the first and foremost ingredient to success in the kitchen.
"He worked tirelessly from the moment he walked into the kitchen remaining focused throughout with well-timed and placed dishes."
Craft Guild vice president and competition organiser, David Mulcahy, agreed with Sargeant, paying tribute to all the judges – chairman Steve Munkley, Brian Turner, Ben Tish, Paul Foster, Christopher Basten and Alyn Williams.
"It was a challenge deciding on a winner from such a strong group of young chefs," he said. "All the finalists proved their ability to compete at this level and I am sure will go on to enjoy success in their careers."
The format of the Craft Guild of Chefs Young National Chef of the Year, in partnership with Unilever Food Solutions' brand Knorr and in association with Lockhart Catering Equipment and Churchill, was revised this year to include more organisations who were keen to be involved, opening the competition up to more young UK chefs across the UK.
Open to chefs aged 18-23, the Craft Guild this year picked four chefs to automatically go through to the final, while the remaining four places were fought for in a series of semi-finals by winners made up of young chefs from industry-wide competitions.