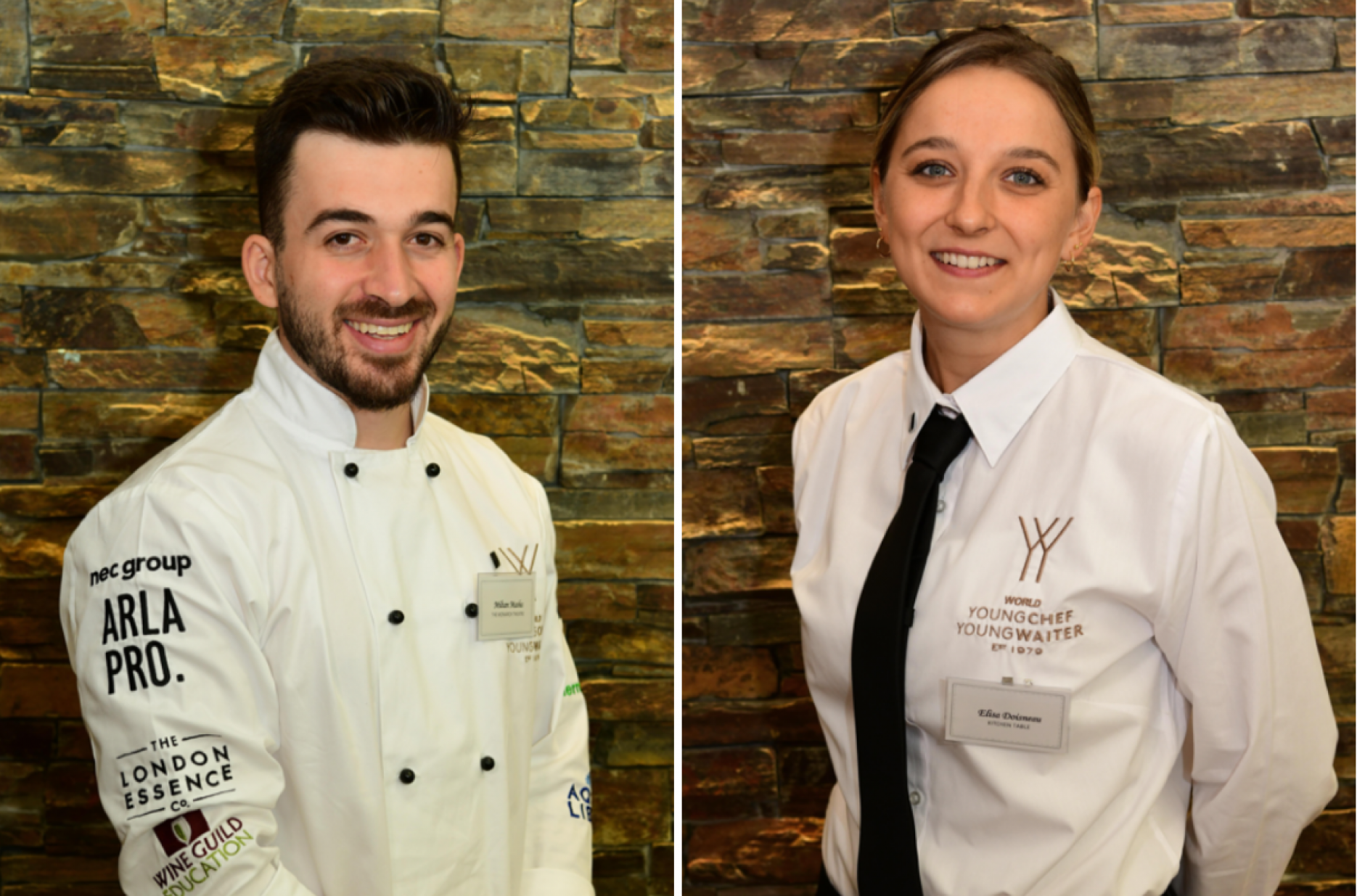 20th July 2022
Young Chef Young Waiter England 2022 Winners Announced
The winners of the Young Chef Young Waiter (YCYW) England competition have been announced at a special awards ceremony at the International Convention Centre in Birmingham.
The YCYW winning chef is Miltan Masha from The Monarch Theatre and the YCYW winning waiter is Elisa Doisneau from Kitchen Table.
The finalists competed over two days at the University College of Birmingham and the two winners will now go on to compete in the World YCYW Final in Monaco, which runs from November 15–16.
The winners were chosen out of 14 finalists by YCYW England head chef judge Adam Handling and YCYW England head waiter judge,Simon King, who were joined on the panel by other leading figures in the hospitality industry - Mario Perera, Michael Kwan, Simon Helier, Andy Downton, Johanna Wimmer, Alessandro Calzavacca & Craig Hancox.
Second place in the chef competition went to Kenny Markham from The Falcon Hotel, Castle Ashby and in third place came Joshua Singer from Scotts.
Second place in the waiter category went to Alex Churcher-Steele from Da Terra, Bethnal Green, with Daniel Bennett from St. John Restaurant in third spot.
Chef judge Adam Handling said: "The final this year was very exciting and Miltan is a very worthy winner of the competition. He was in first place at the semi final round as well, so he has been consistent across the two days of the competition.
"The great thing about Miltan, and all the semi finalists, is that they all improved from the semi."
Waiter judge Simon King said: "Our waiter winner Elisa displayed an all-round ability in the final competition. She is naturally engaging, has wonderful charisma and really sees the bigger picture, looking far beyond her own table."
World YCYW chairman Robert Walton said: "We're so excited to have completed the first competition for our first ever World Young Chef Young Waiter competition.
"In November we will take the winning chef and waiter to represent England in the world final in Monaco against seven other countries.
"We've always had global ambitions for this incredible competition and now our aim is to create the Olympic games of hospitality with contestants from all over the world."
World Young Chef Young Waiter was supported by Arla Pro, Thermomix, Dojo, NEC Group, The Wine Guild, The London Essence Co, Aqua Libra, Champagne Frerejean Frères and Wine&Something.
The event supports The Springboard Charity's 'FutureChef' and the Royal Academy of Culinary Arts 'Adopt a School'.