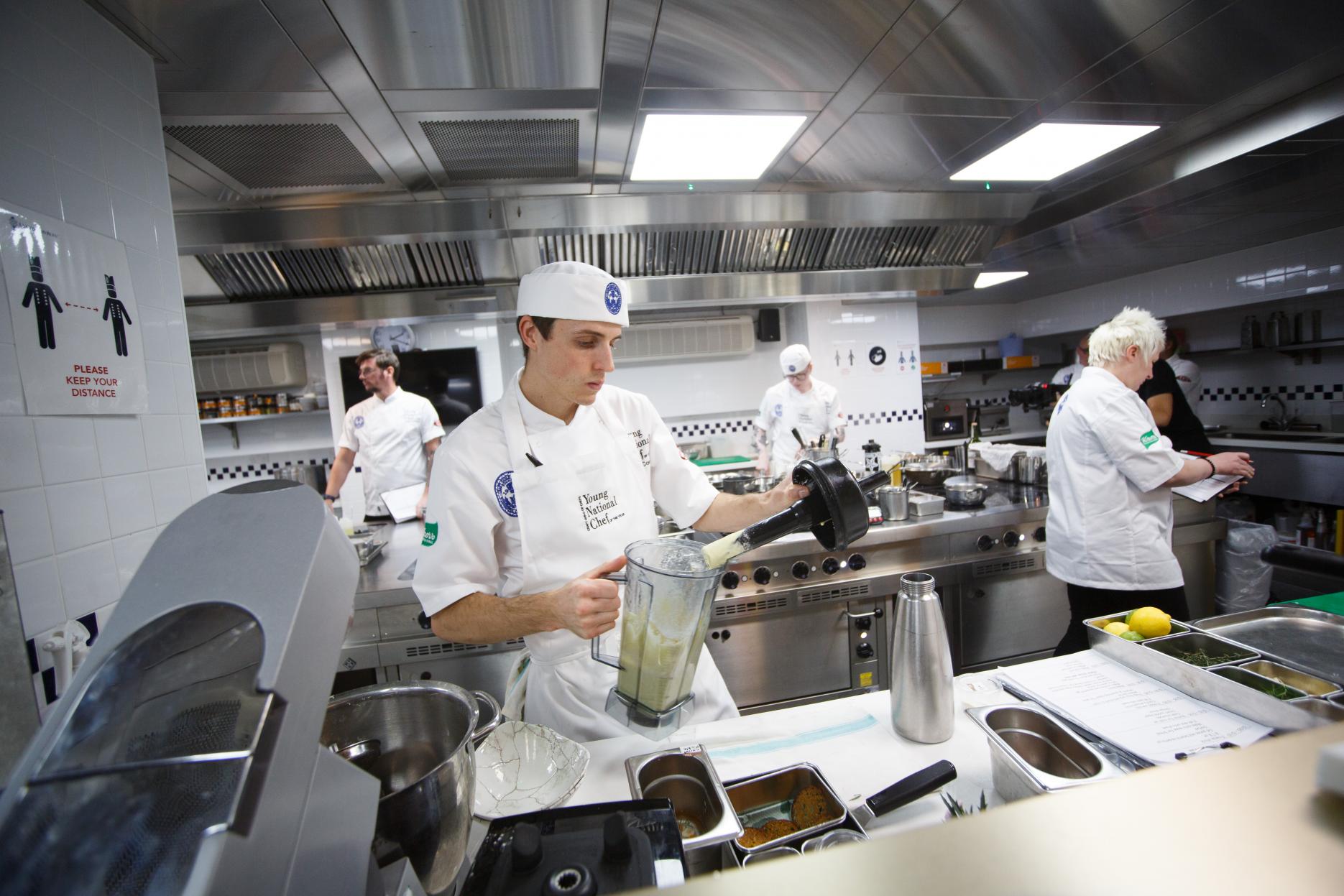 1st July 2022
Who is in the running to be crowned Young National Chef of the Year?
Thirteen young chefs have been invited to take part in the semi-final stage for the Craft Guild of Chefs Young National Chef of the Year competition.
The chefs have been recognised for their success in a national or regional competition or have been put forward by a select group of industry leaders who have recognised their talent as rising stars. Once menus have been judged, seven of these chefs will be selected to go on and compete in the final at Le Cordon Bleu in September. 
Each year some chefs are seeded directly into the final if they have hit the top spots in other leading culinary events for young people. Heading straight to the final this year is Charlie Knight, chef de partie at the House of Commons who won the British Culinary Federation Chef of the Year; George Baldwin-Edie, development chef for Marks and Spencer who was the Highest Achiever at the Graduate Awards; Scott Pepper, demi chef de partie at Boodles who won the Academy of Culinary Arts Awards of Excellence and Ashleigh Hellowell, chef de partie at Manor House Lindley for her success in World Skills.
Battling it out to join these chefs in the final will be:
Samantha Watkins, commis chef, Sapori
Shannon Lippiatt, commis chef, The Old School House Toll Restaurant
Jamaar Semper-House, junior sous chef, The Manor House Hotel
Dalton Weir, junior sous chef, Cottage Loaf
Ben Shields, commis chef, La Moye Golf Club
Liam Rogers, sous chef, The Gleneagles Hotel
Joshua Singer, senior chef de partie, Scott's of Mayfair
Theo Hadjitofi, chef de partie, The Table at de Banke Group
Fraser Cameron, senior sous chef, The Globe Inn
Nicole Watt, ABCS, Royal Navy Embassy Admiralty House
Mae Dionio, chef de partie, Le Manoir aux Quat'Saisons
Jessica Watson, commis chef, The Northumberland Club
Charlie Critchton-Rutter, commis chef, Horticulture Newcastle
To try and take one of the remaining places in the final, the chefs need to create a three-course menu, following a brief set by Lisa Goodwin-Allen, executive chef at Northcote, who is leading the judging panel this year.
Chefs are tasked with using their creativity and personality to create an egg starter. They can use duck, hens or quail's eggs for example, and it must include at least three or more of the following Future 50 foods: pumpkin, heritage root vegetables, watercress, beans, pulses, cereals or grains.
Organiser of Young National Chef of the Year and vice-president of the Craft Guild of Chefs, David Mulcahy said: "It's exciting to launch this year's Craft Guild of Chefs Young National Chef of the Year challenge which will see young rising stars compete for this prestigious title.
"Given the current challenges we are facing within the hospitality industry, it is important that we encourage and draw attention to the amazing opportunities that exist for chefs. With such an inspiring chair of judges in Lisa Allen, I have no doubt that the brief will test this year's competitors and bring the very best out of them making for an exciting final."
For the main course, Lisa is looking for a Provencal inspired dish using a choice of Norwegian haddock or cod fillet. Lisa is encouraging chefs to think of the classic flavours in this traditional dish such as garlic, herbs, tomato, fennel and red peppers.
However, she wants chefs to add their own refinement and spin on it. When it comes to dessert, candidates are required to create a modern interpretation of a classic puff pastry dessert using a homemade puff pastry. Chefs need to showcase their skill and innovation to serve a unique and tasty dessert.
Lisa Goodwin-Allen added: "In this new role, my aim is to really inspire young chefs to look at the quality of ingredients and flavour and tell a story of who they are with their dishes. I am really looking forward to seeing what these semi-finalists submit for their chosen menus."
The Young National Chef of the Year is supported by Churchill, HIT Training, Quorn Foods, Seafood from Norway and Worshipful Company of Cooks.