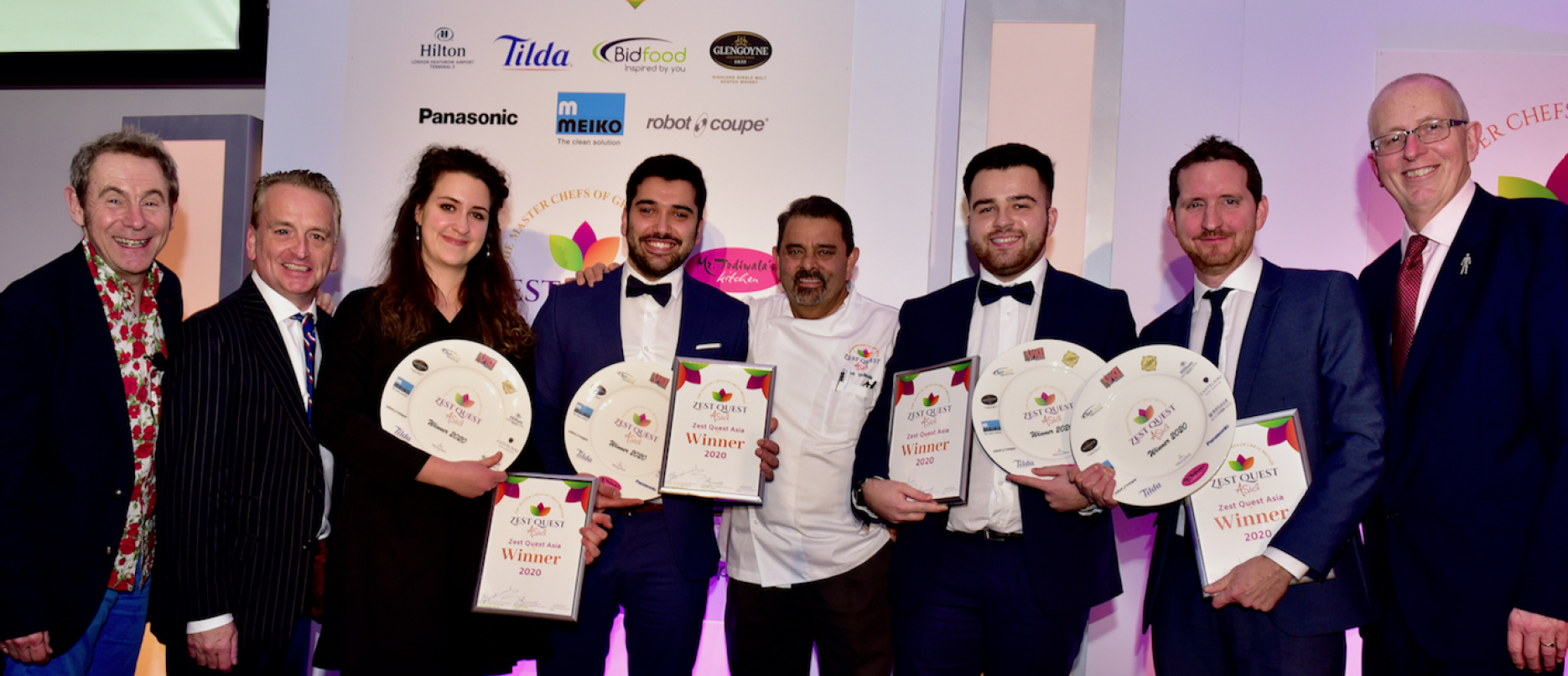 17th February 2020
University College Birmingham takes Zest Quest Asia 2020 crown
University College Birmingham is the new Zest Quest Asia champion, the team members and their mentor winning a culinary and cultural trip to Bangkok as guests of Dusit International hotel and resorts group.
The team will undertake training in Thai cuisine at the recently launched Le Cordon Bleu Dusit Culinary School and meet five of Thailand's leading chefs in their Michelin-starred restaurants.
The award was announced at a gala dinner at the Hilton London Heathrow Airport Terminal (Hilton T5) attended by over 250 food, drink and hospitality industry representatives, catering equipment suppliers, colleges, students and trade media.
Also in attendance were representatives from the Japanese Embassy and the Philippine Department of Tourism in the UK. This is the second time that University College Birmingham has won Zest Quest Asia, having previously claimed the title in 2017.
The winning team comprised John Almeida, Dorottya Kalo, Goncalo Machado, and mentor Lewis Walker and their three-course Pan-Asian menu was inspired by the cuisines of Thailand, Sri-Lanka and Japan - comprised a starter of Thai Langoustine 'Mi Krop' Croquette, Langoustine & Spinach Bisque, Mango & Coconut Salsa; a main course of Sri Lankan Monkfish 'Malu Mirisata' Curry, Cashew Sauce, Spiced Infused 'Kiribath' Rice Green Bean Salad, 'Wattaka Kalu Pol' Pumpkin Curry, Tomato Sambal, and a dessert of Japanese Cherry Blossom Garden Dark Chocolate and Yuzu 'Namelaka', Macha 'Kasutera sponge, Spiced Cherries, Sesame Oil, Blossom Garnish.
The final live cook-off was held at Mr Todiwala's Kitchen.
Other awards and prizes announced during the evening were:
• Panasonic Cooker Round – The Sheffield College, who won a 'money can't buy' experience to cook for an event hosted by the Japanese Ambassador to the Court of St James, working alongside the Japanese Embassy's chef
• Tilda Best Use of Rice – New City College, Hackney who won a 'Tilda Italia Tour', exploring the Arborio Rice Mill and Milan's gastronomic scene.
• Castelnau Best Wine Pairing Award – The Sheffield College, who will undertake a bespoke wine masterclass and dinner at a 5-star Central London hotel hosted in a private dining environment
• Best Use of Robot Coupe Machine – University of West London who took home a brand new Robot Cook Machine and Micromix stick blenders
• Glengoyne Best Menu Planning Award – North Hertfordshire College, who won bottles of 18-year old Glengoyne Single Malt Whisky
• Chefi Minimum Wastage Award – University College Birmingham, who won sets of Chefi Knife Rolls
• Lincolnshire Game Best Use of British Produce - Loughborough College, who will enjoy a 'field to fork' experience with a tour of a shooting estate followed by a visit to the Lincolnshire Game state of the art facility.
2
• KellyBronze Best Local Sourcing – Loughborough College, who will visit the KellyBronze farm for a fun day of learning
Now on its seventh series, Zest Quest Asia 2020 is a competition that celebrates talent and ambition in the Asian culinary arts among student chefs in Britain. It was started by restaurateurs Cyrus Todiwala and Pervin Todiwala, with the involvement of the Master Chefs of Great Britain.