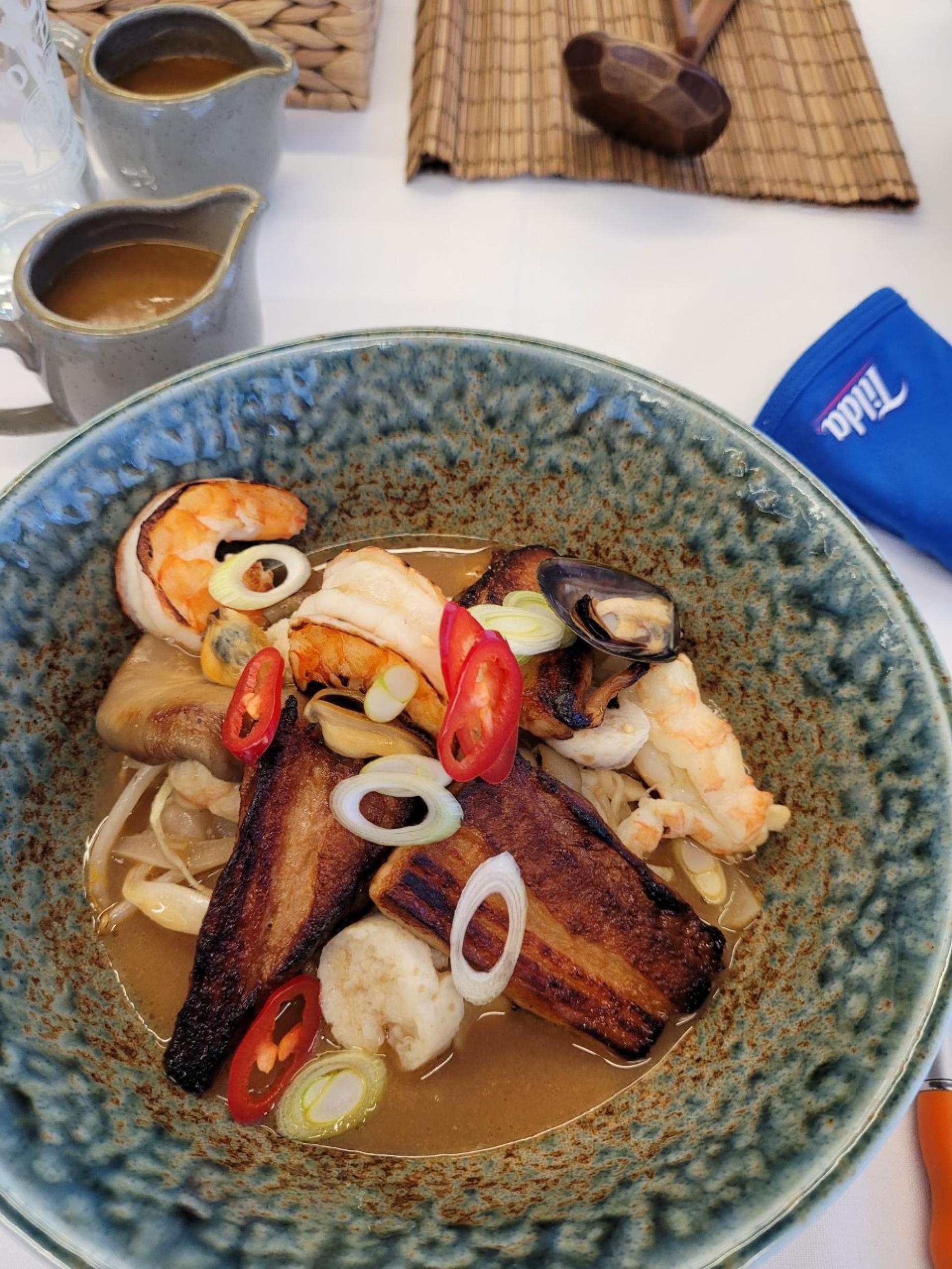 6th April 2021
Sheffield College student triumphs at Zest Quest Asia - Tilda Challenge 2021
Oliver Herrington from Sheffield College won the virtual Zest Quest Asia competition with his Nagasaki ramen pork-belly and handmade Tilda basmati rice noodles.
The judges believed the dish went 'above and beyond every part of the criteria' with its creativity, good flavour, texture and skill. For winning Herrington will enjoy a masterclass with Cyrus Todiwala, a trophy, chef knives and a jacket.
Zest Quest Asia competitions aim to 'inspire' student chefs across the UK to consider Asian cookery as a future career. The virtual competition was judged by Cyrus and Pervin Todiwala, Murray Chapman, Steve Munkley as well as Jo Witchell from Tilda Foodservice.
Mentored by Chef Lecturer Andrew Gabbitas, Herrington's winning dish was inspired by a Japanese dish created in 1899. The winning dish was a Nagasaki ramen-marinated glazed pork belly served with langoustine, mussels and kamaboko, fried wood ear mushrooms with garlic & ginger broth, and handmade basmati rice noodles.
Cyrus Todiwala said: "This was one of the toughest competitions to judge in a long time. Each and every finalist wowed the judges with their sheer effort and talent, so regardless of there being only a few named winners, everyone deserves a pat on the back for a great job done.
"Oliver is a worthy Zest Quest Asia - Tilda Challenge champion. His winning dish was outstanding on so many levels and reflected everything this competition was about – his fantastic use of Tilda rice, the research he undertook to learn more about an Asian culture and its cuisines, and the talent and ambition he displayed in creating and executing a superb award-winning dish.
"Pervin, myself, our director Murray and all the Zest Quest Asia team are grateful to Tilda Foodservice for the commitment and resources they've poured into the Zest Quest Asia - Tilda Challenge 2021.
"It's unbelievably rewarding to see that our passion to ensure student chefs develop skills and knowledge in Asian cuisine is also shared by college lecturers up and down the country, as well as the tasting judges who shared their expertise with us."
The award for 'Best Use of Rice' went to Killoran Wills from University College Birmingham who created a coconut & lime rice cream using Tilda basmati rice, served on a cardamom & cumin jasmine rice sponge with sesame seed tuile and mango compote & coulis.
Annette Coggins, head of foodservice at Tilda UK, added: "This year's competition was tougher than ever before, with the chefs creating a diverse range of dishes and executing each one to the highest quality.
"At Tilda we pride ourselves on innovation and the versatility of our rice products and that's why Oliver took the trophy this year. We do want to say that we consider everyone who got to this final stage as a winner, so we extend our thanks and congratulations to all the finalists."