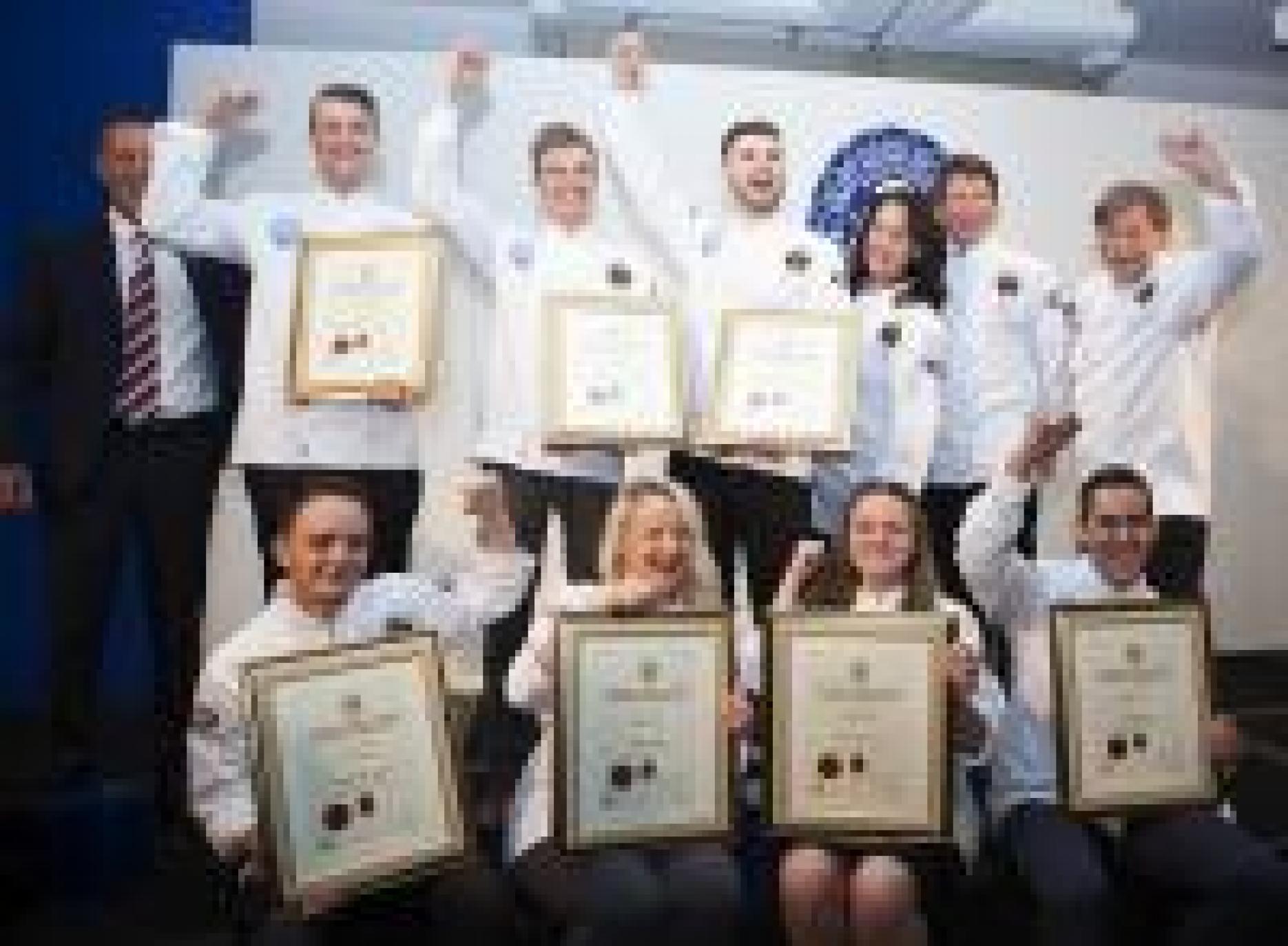 12th January 2018
Seven chefs make the grade at 2017 Graduate Awards
The Craft Guild of Chefs has announced that seven chefs made the grade at last month's (October) 2017 Graduate Awards examination.
After undergoing a series of tests in the full day graduate examinations held at University College Birmingham, five chefs achieved the pass mark in the kitchen examination and two in the pastry award.
Kitchen finalists completed a paper exam, fishmongery and butchery skills tests, created classic recipes and prepared their own dish using a basket of mystery ingredients.
To join the Graduate Awards hall of fame, the chefs, aged 23 or under, had to achieve a pass mark of 85%. The pastry graduates were asked to complete a series of challenges during a five-hour test under the watchful eyes of the examiners, which included the 2016 highest achiever, Kacey Bignell.
Amy Rose Plumb from Titchwell Manor Hotel and Hannah Catley who works at Chiltern Firehouse were declared as pastry graduates.
Meanwhile, Gilles Varone from Petrus Restaurant, Joe Payne from Andre Garrett Restaurant Cliveden House, Vince Vermeulen and William Keeble from Belmond Le Manoir aux Quat'Saisons and Lewis Kuciers from The Black Bull at Blidworth were revealed as the new kitchen graduates.
Taking the titles of highest achievers were Gilles Varone and Hannah Catley while Robert Tayler, head chef from The Compasses Inn, was announced as the Mentor of the Year for his support of finalist, Jessica Deakin.
The results were announced at an awards lunch held at The Royal Garden Hotel in a special celebration of the Graduate Awards's fifteenth anniversary . Twenty-five former Graduate Award achievers were in attendance, with the lunch being prepared by graduates Richard Edwards, Mark Froydenlund and Selin Kiazim.
Founder Steve Munkley said: "It makes me feel extremely proud that today we are celebrating fifteen years of the Graduate Awards.
"The reason I created them was to ensure that there was a channel for young chefs to develop the skills they have learnt at college and take them to the next level. I always follow the careers of those who have achieved this award and have seen some go on to gain Michelin stars, win national awards, work in some of the world's best restaurants and compete in worldwide competitions.
"This year alone, there are two former graduates competing in the National Chef of the Year final which is incredible to see.
"In the final examination last month, we had candidates from some of the top restaurants in the UK and that's testament to how highly regarded these awards are. We now have over 60 Graduate chefs in our hall of fame and it is fantastic to see so many of them back here today recognising the success of the Class of 2017."
Speaking about this year's examination, chair of examiners, Russell Bateman, added: "Taking part in the Graduate Awards final really challenges young chefs, and gives them an opportunity to put their skills to the test outside of their workplace.
"All the young chefs should be proud of what they achieved in the final and if they didn't reach the pass mark, I hope to see them try again next year. It's an award that develops skills and opens doors so I would encourage all chefs and mentors to get involved, as the opportunities are endless."