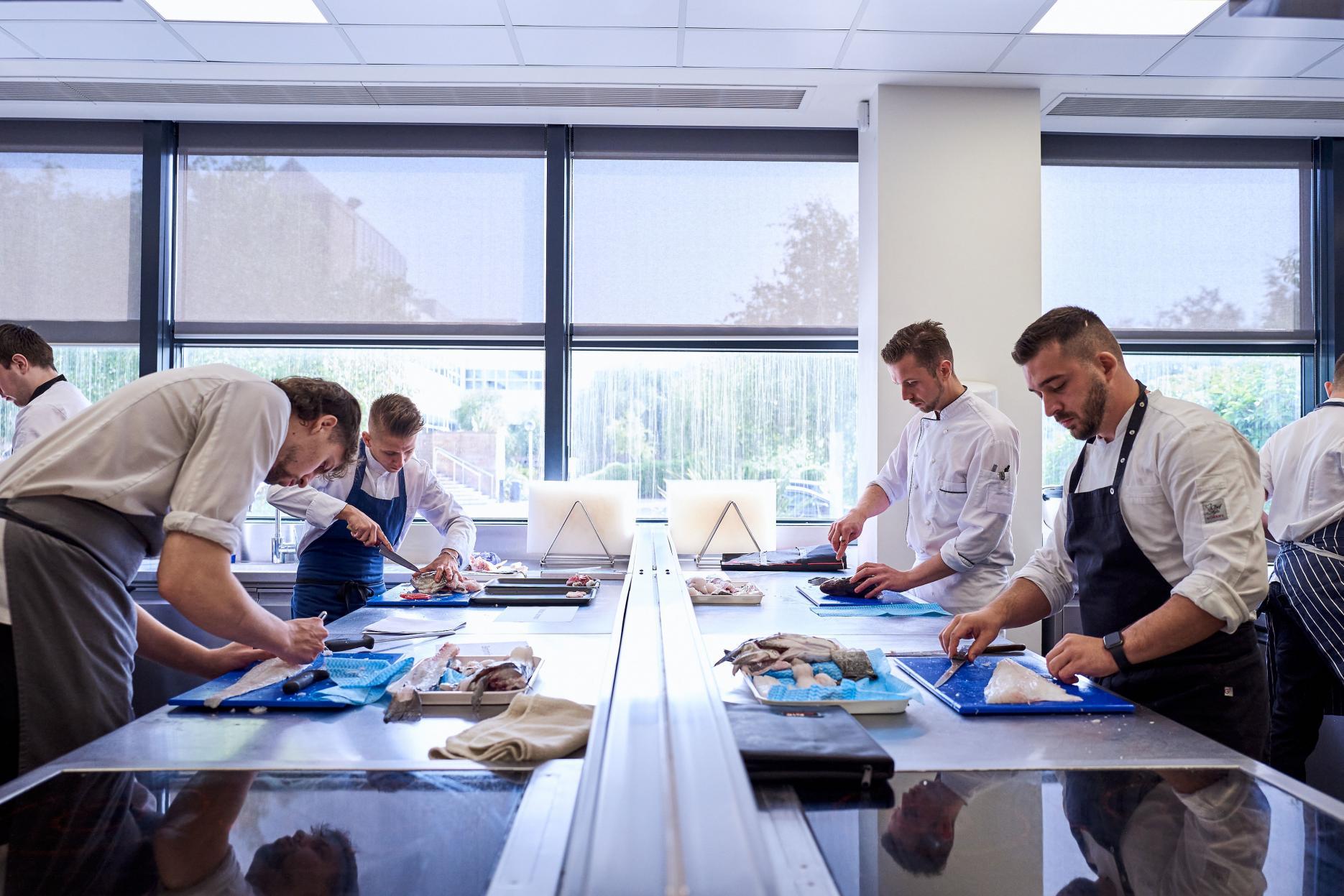 15th September 2023
Seafood from Norway joins forces with Simon Hulstone during YNCOTY mentor day
In a bid to support the next generation of UK chefs Seafood from Norway (SfN), sponsors of the Craft Guild of Chef's Young National Chef of the Year (YNCOTY) competition, recently attended the finalist mentor day alongside chef Simon Hulstone.
Hosted at the Waitrose Food Innovation Studio, the finalist mentor day is a 'pivotal cornerstone' of the competition as it provides the opportunity for all sponsors to meet and educate the YNCOTY and National Chef of the Year (NCOTY) finalists.
The day consisted of a series of masterclasses and skills challenges, including an inspiring recipe showcase and product demonstration from Michelin-starred chef Simon Hulstone, all with a keen focus on the potential of responsibly sourced Norwegian cod.
Chefs also listened to a thought-provoking panel discussion with input from Lisa Goodwin-Allen, executive chef at Northcote and 2022/2023 chair of judges for YNCOTY.
In addition to offering a filleting demonstration on a whole Norwegian cod to teach the chefs about waste reduction and portioning formats for restaurant dishes, essential culinary insights were shared. These insights encompassed kitchen techniques and plating strategies.
Victoria Braathen, UK director for the Norwegian Seafood Council, said: "The Craft Guild of Chef's Young National Chef of the Year competition is a defining moment in these chefs' careers, propelling them to new heights of aspiration. We want to help reward the best new and emerging talent in the UK and encourage the culinary stars of tomorrow to experiment and cook with Norwegian seafood.
"Norway is surrounded by cold, clear Arctic waters, creating opportunities to catch high quality seafood, such as cod. In addition to the excellent taste of the lean, white meat of the fish, Norwegian cod is also packed full with a number of important nutrients, making it a perfect match for a wide variety of dishes.
"We hope working with Norwegian cod and learning all about its great qualities from Simon Hulstone himself has inspired the chefs to fine-tune their dishes and skills ahead of the final. We look forward to seeing how Norwegian cod is used in the first courses and extend our heartfelt best wishes."
The 2023 Young National Chef of the Year winner will enjoy an educational culinary trip of a lifetime to Norway, hosted by Seafood from Norway to celebrate responsibly sourced seafood.