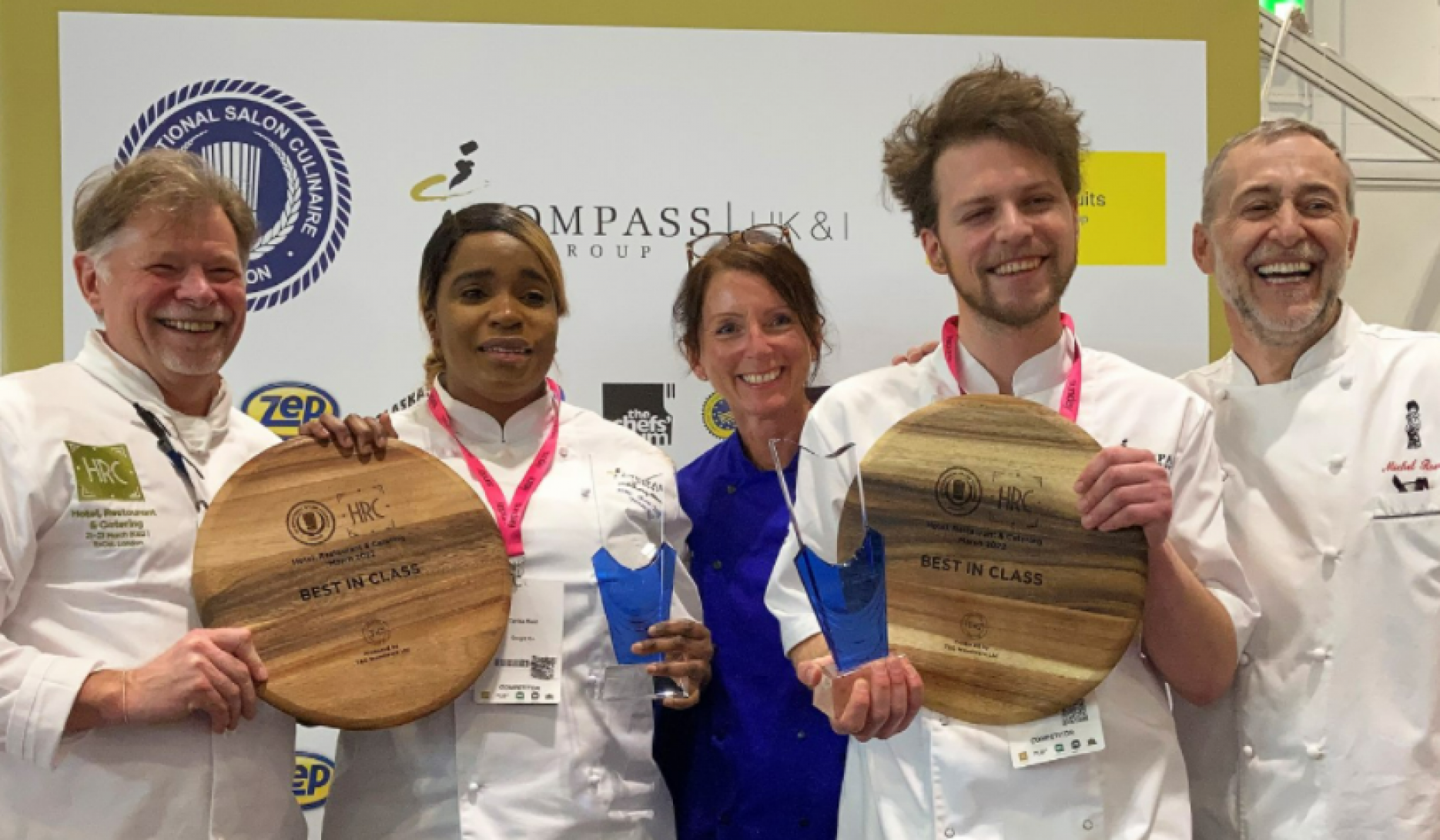 29th March 2022
Restaurant Associates wins Tilda Chef Team of the Year competition
Restaurant Associates, the premium hospitality arm of Compass Group UK & Ireland, has won the iconic blue trophy and an all-expenses paid trip to Italy after winning the Tilda Chef Team of the Year competition.
The winning team included chefs Tarisa Reid and William May who impressed the judges with their Caribbean inspired menu that celebrated Carnival. The duo made traditional 'cook up' carnival rice, for their main using Tilda easy cook long grain, beans as well as an assortment of meats.
For dessert, they made creamy coconut rice pudding using Tilda arborio rice, mango coulis, cashew and Tilda basmati & wild puff rice granola – inspired by the fruits, nuts and spices found in the Caribbean. The teams had just 45 minutes to prepare, cook and present a Festival of Flavour Menu that included four portions of a main course and a dessert using Tilda speciality rice.
The Tilda Chef Team of the Year competition aims to highlight just how versatile rice can be, helping chefs to cater for a wide range of food trends and diets – thanks to the grain's versatility and wide appeal.
Speaking about the winners, Jo Witchell, commercial foodservice marketing manager at Tilda UK, said: "It was very special to have Tilda Chef Team of the Year back at HRC. Thank you to all our chefs who gave us an incredible live final, as well as the amazing crowd who came out to support them. 
"Congratulations to Tarisa and William as this year's winning chef team, it was a very difficult decision for the judges, but their Carnival inspired menu really delivered in authenticity, taste and showcased the endless possibilities of Tilda rice – a very deserving winner.
"Along with Tilda's iconic blue trophy, the Compass Group UK & Ireland chefs will enjoy a once in a lifetime gastronomic trip to Italy, to visit the rice paddies and mills that produce Tilda's speciality rice and sample the very best of the local food and produce."
The runners up were Jordan Thomas and Krishan Makol from Lexington Catering (silver medal) and Marco Roxo and Ben Saggers from the House of Commons (Bronze) who each won a Tilda Rice hamper for their kitchen.