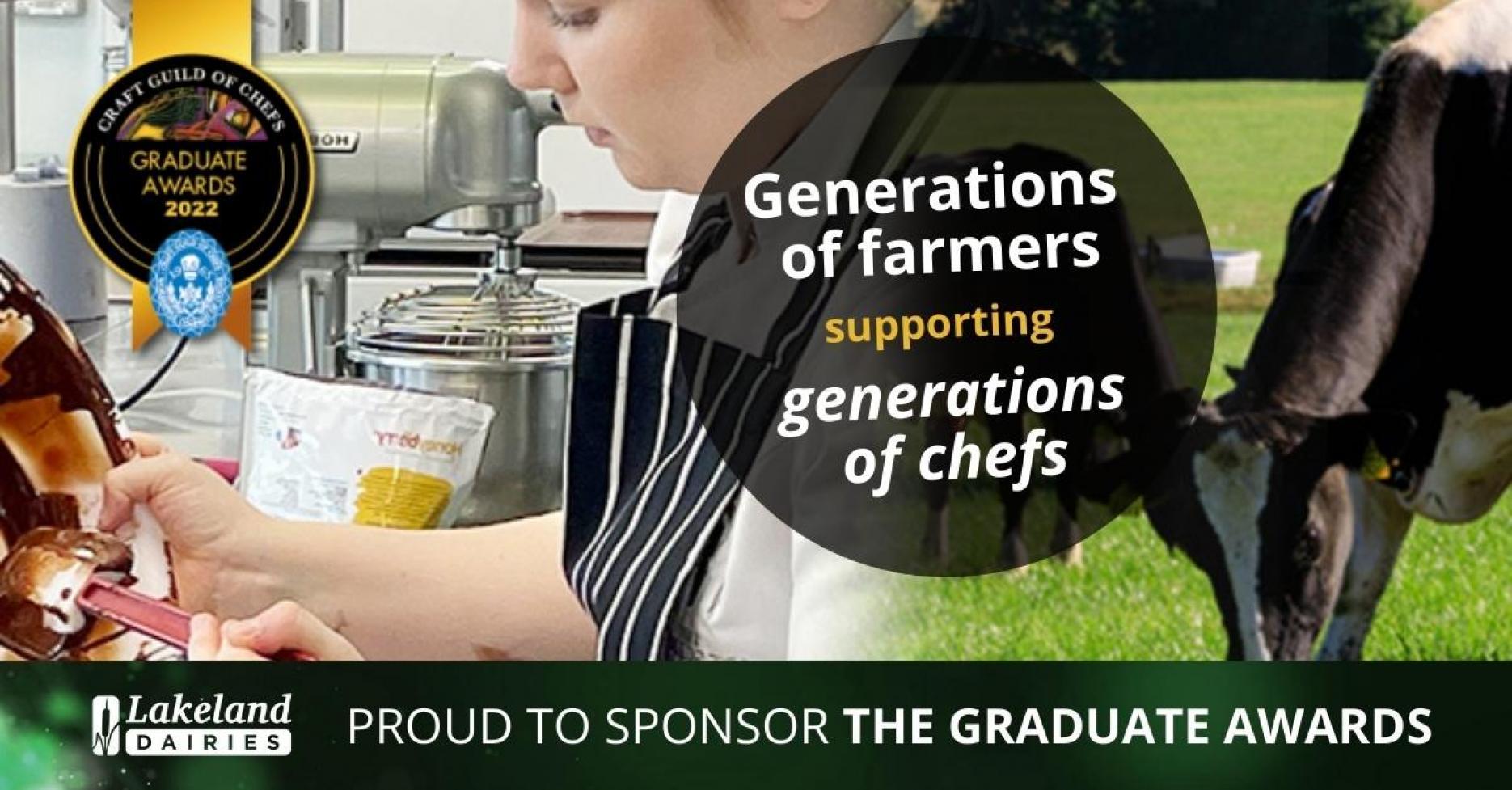 9th June 2022
Lakeland Dairies sponsors Graduate Awards
Dairy experts Lakeland Dairies have partnered with the Craft Guild of Chefs to sponsor their 2022 Graduate Awards.
The prestigious Graduate Scheme is celebrating its 20th anniversary this year with an enhanced programme devised by the panel of judges, including Steve Munkley, Russell Bateman and Will Torrent.
Exclusively, Lakeland Dairies' high-quality milk, butters, creams, and cream alternatives will be used in the Graduate Awards pastry exam, providing an opportunity for chefs to discover the taste and functionality of their dairy from Ireland. Lakeland Dairies will also sponsor every finalist with a one-year annual membership to the Craft Guild of Chefs.
Jean Cattanach, marketing controller at Lakeland Dairies, said: "As a Dairy Co-Operative with a long heritage of supporting family farms being passed through generations, it's long been our ambition to help inspire and support the next generation of chefs. With several generations of farming families within our Co-operative we understand the importance of nurturing the next generation and creating a legacy of expertise for the future.
"Partnering the Craft Guild of Chefs Graduate Awards is one such way in which we hope to fulfil that ambition. We are extremely excited to engage directly with young chefs at such a critical point in their career, and to support important career progression opportunities such as The Graduate Awards.
"We can't wait to share our farming heritage and dairy expertise with the chefs and see what thrilling dishes they create. This is alongside creating excitement for dairy from Ireland and Northern Ireland, which is known for being some of the best in the world."
The pastry exam within The Graduate Awards is aimed at young pastry chefs and chocolatiers or level 3 students studying pastry. Known for accelerating the careers of ambitious and talented young chefs, The Graduate Awards have seen its alumni go on to win some of the UK's most respected culinary titles including Michelin Stars.
Steve Munkley, vice president of the Craft Guild of Chefs and culinary director of The Graduate Awards, added: "We are delighted that Lakeland Dairies have joined The Graduate Awards. It's never been a more important time to help chefs progress in their career."
Lakeland Dairies has a long heritage of excellence in dairy farming and remains a 100% farmer-owned Irish Dairy Co-Operative. It is one of the largest dairy co-operatives on the island of Ireland, processing over two billion litres of fresh wholesome milk annually, collected from their 3,200 family farms.
The winner of the Graduate Awards will be announced at a celebratory lunch on the 12th September at the Lancaster Hotel, London.