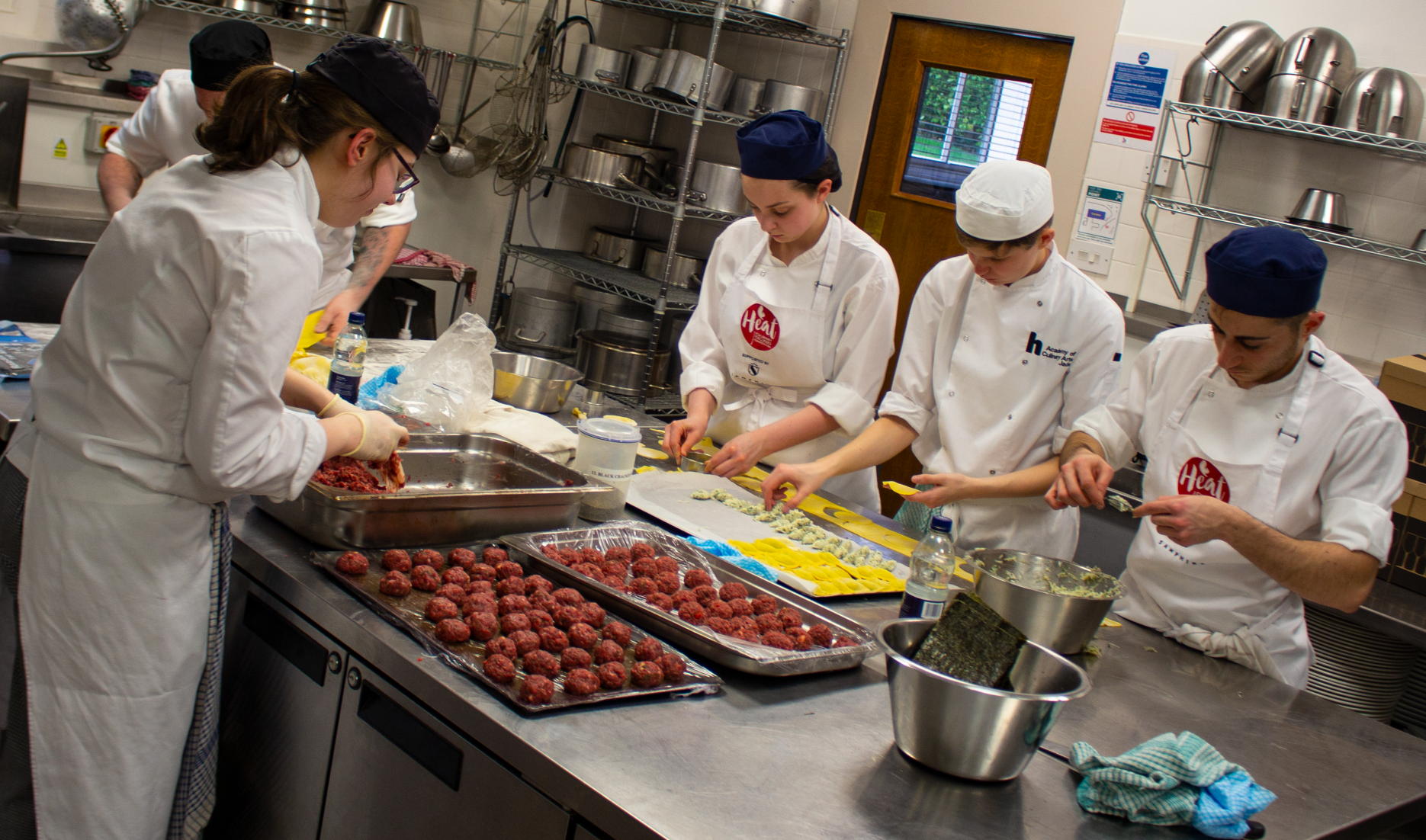 11th November 2019
The 'Heat' is on as the competition returns for a fourth year
Heat 2020 is returning for a fourth year in March 2020 and over the next few weeks colleges from across the UK will compete for a place in the final.
The week-long event is supported by Samphire a relaxed yet polished, casual dining restaurant in Jersey. Heat will see some of the UK's top chefs, mentor and lead teams to cook a 4-course meal for diners. Both the kitchen team and front of house will be judged by Henri Brosi (Executive Chef, The Dorchester 1999-2019), Stephen Scuffell (Craft Guild of Chef Vice President, and Chef Ambassador, Gourmet Classic), Andrew Bennett MBE (Chair of the Craft Guild of Chefs) and Paul Gayler MBE (Chef Consultant). 
David Chalk, Jersey Craft Guild of Chefs, said: "This is the fourth Heat event we have held and the Craft Guild of Chefs is ready to repeat the show with Heat 2020.
"At the Craft Guild we believe strongly in the development of the next generation of caterers, which is why we have devised Heat in partnership with Highlands College, PACE and Freedom Media.
"Jersey is one of the most foodie destinations in Britain, and we are not short of locally produced, reared and caught produce all year round - a selection of which you will taste throughout this competition."
The Heat 2020 final takes place in Jersey in the Channel Islands and students will be hosted at the four star St Brelade's Bay Hotel. Students will be taken on tours to see local produce at source and they will also experience a packed 'skills day.'
Eileen Buicke-Kelly, chair of the Craft Guild of Chefs, added: "We are delighted that we have had so much interest in this year's competition, and we wish all the teams luck as they compete for a place in the final over the next few weeks. We look forward to announcing the finalists in early January.
"The students competing will all work alongside local well-known chefs, cooking and serving some classical dishes with a modern twist. The team here at Highlands College is looking forward to showcasing what Jersey has to offer with their up and coming chefs and hospitality students."
The Heat 2019 finalists were Farnborough Technology College led by Wimbledon exec chef Rob Kennedy, Middlesbrough College led by Michelin chef Frances Atkins, South Regional College from Northern Ireland and the 'home' team from Highlands College Jersey. The competition was won by Farnborough College beating Jersey, the reigning champions.   
Chef Kennedy, commented: "It was an honour to be recognised in this way and I am so proud of the team. This competition is all about the students and they have worked tirelessly, practicing and preparing for Heat 2019.
"The Farnborough students were determined to win, and they did it! All of the colleges taking part delivered outstanding services and exceptional food. We loved visiting Jersey and it was a privilege to lead the team." 
Chula Whelan, managing director, Samphire – Jersey, added: "At Samphire we feel really strongly about helping to support and develop our home-grown local talent. In fact we have a couple of chefs in our restaurant kitchen  who have been trained at Highlands College. I think there is no better training ground than being exposed to outside influences, other budding talent as well as having the opportunity to work alongside esteemed professional chefs and mentors. We are looking forward to Heat 2020 and I wish all of the teams the very best of luck."
To watch highlights of Heat 2019, visit: https://www.youtube.com/watch?v=WeUMZnp2qp8&feature=youtu.be