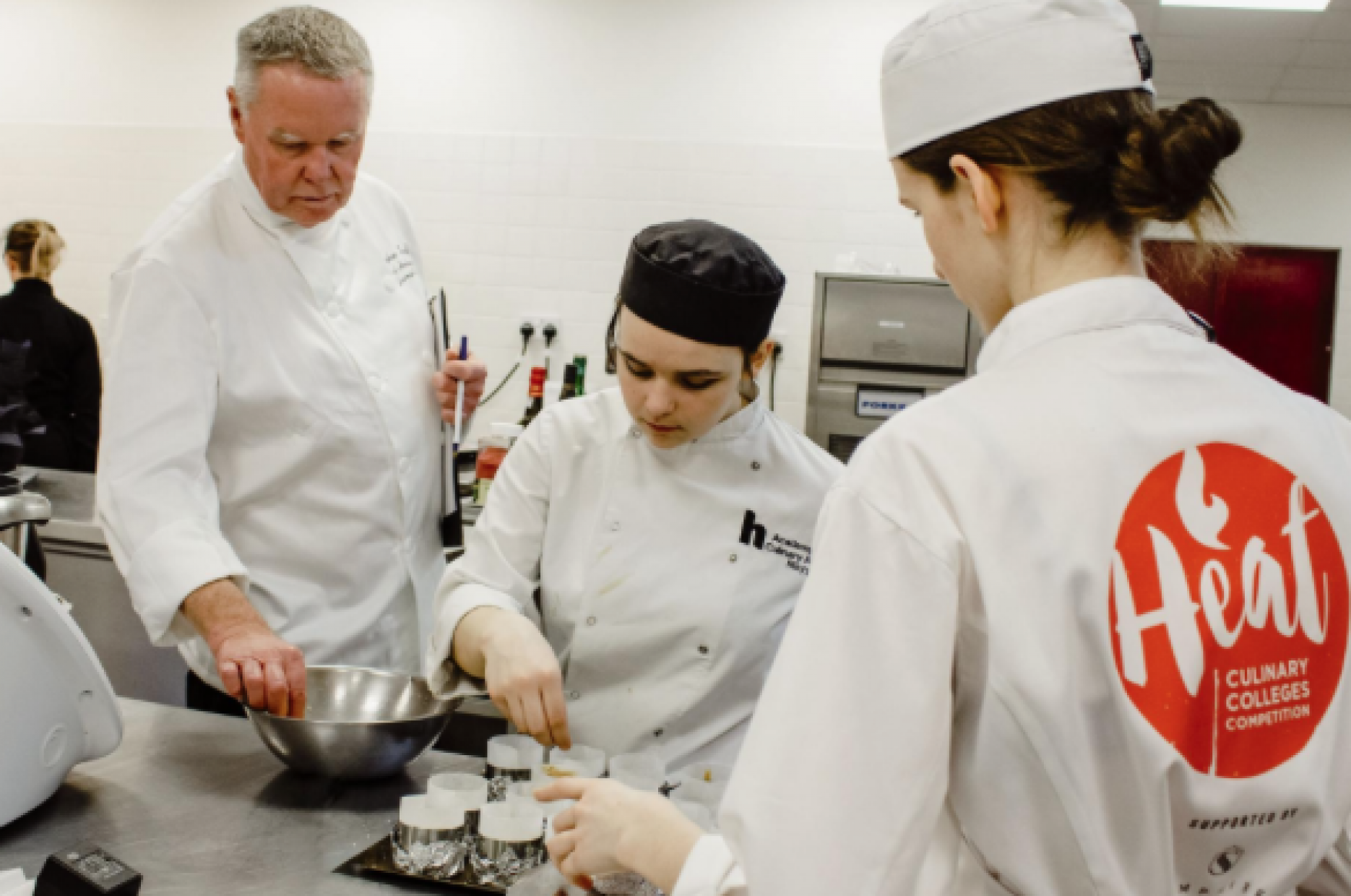 9th March 2020
Heat 2020 returns this week
Heat 2020, the culinary college competition, is returning this week for its fourth edition where colleges around the UK will compete for the Peter Queree Trophy.
The three Heat 2020 finalists are Farnborough College, South Eastern College from Bangor College and the Jersey team from Highlands College  (please note- Llandrillo College have withdrawn from the competition). 
Both kitchen and front of house students will compete at the two-day competition, led by a high profile chef:
Head chef Tommy Radiguet from Samphire will lead the Jersey Team.  

Connor Godfrey, exec sous chef, Mayfair Hotel in London will lead Farnborough College. 
Bob McDonald, chef director at Burren Balsamics Ltd, will lead South Eastern College from Bangor. 
Radiguet said: "I am really looking forward to leading the Jersey team and working alongside the talent of the future. The competition is of a very high standard, with some of the top colleges in the UK competing." 
The judges include Henri Brosi, Stephen Scuffell, Andrew Bennett and Paul Gayler. 
Bennett, chairman of the Craft Guild of Chefs, added: "Heat has become one of the key competitions in our culinary calendar, as this event has gone from strength to strength, because of the standards that we have initiated in making this a 'must to enter' for Colleges around the UK to be part of, given the amazing rewards on offer. 
"This competition inspires the next generation of chefs to cook to the highest standards in front of a highly respected panel of judges." 
Visiting students will get the chance to explore Jersey and to meet local suppliers. The college students will also take part in a training day whilst they are on the island. 
Eileen Buicke-Kelly, director of Highlands College – Culinary Arts and Hospitality Studies and Craft Guild of Chefs Jersey said: "We are very excited to welcome some of the top talent from outstanding culinary colleges
in the UK to compete here in Jersey once again against our students at the Academy Restaurant at Highlands College. 
"Heat goes from strength to strength and we are thrilled that so many fought for a place at the final here in Jersey this coming March. It's going to be hotter than
ever and we look forward to a week of the finest food and service that hospitality can offer. Our thanks to all our local sponsors that make HEAT a competition like no other!" 
The winners of the Peter Queree Trophy will be announced at a Gala dinner on 12 March at St Brelade's Bay Hotel. 
For more information visit: www.heat.je.   ​​​​​​