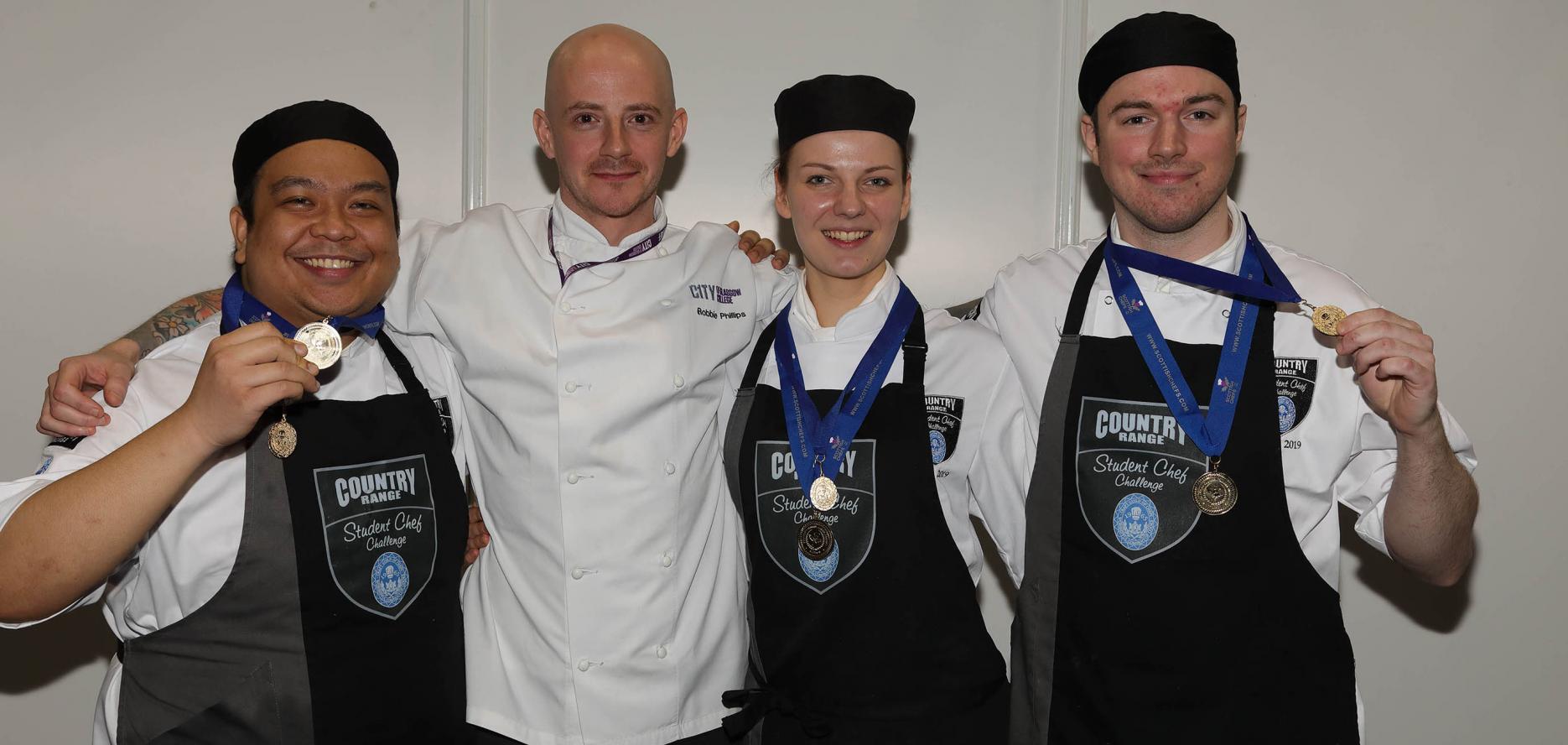 18th March 2019
Glasgow College wins Country Range Student Chef Challenge for 2nd year running
City of Glasgow College was last week (13 March) crowned the winner of the 2019 Country Range Student Chef Challenge for the second consecutive year.
Its three-person team - Alan Coats, Ance Kristone and Andreau Talla – were said to have fought off "fierce" competition from the seven other finalists, and for showcasing "supreme" skill and precision, high-quality flavour and presentation.
Christopher Basten, Craft Guild of Chefs chairman of judges, said: "A massive congratulations to City of Glasgow College who are definitely the deserved winners this year."
With this year's theme focusing on the core skills and techniques learnt on a second year professional cookery course, the Student Chef Challenge tested competitors' knowledge of classical cooking and more modern methods of the last 25 years.  
Glasgow's menu, for which the team received a gold award, featured a starter of seared sea bass, turnip, coconut and peanut curry; roast duck with duck 'bacon', caramelised onion and Jerusalem artichoke for main; followed by a chocolate tart dessert with caramelised banana, pecan crisp, popcorn and popcorn sorbet.
Loughborough College followed in second place – also with a gold award - and Carlisle College took home a respective third and silver award.
Basten added: "As we expected from the final, there was a fantastic array of skills on shows, from traditional and classic cooking methods to newer techniques and ingredients.
"Each team can hold their heads up high at a fantastic job done as cooking a three-course, four-cover menu in front of a live crowd under strict competition standards is no mean feat."
Competition organiser Emma Holden commented: "A huge congratulations to the City of Glasgow College team on winning this year's challenge, in what is a very special 25th anniversary year.
"All the teams who made the final can be incredibly proud of themselves a, from today's evidence, the UK's professional kitchens are in safe hands.
"With our industry already facing a skills shortage, cooking competitions are vital as they help raise the profile of the industry and prepare students for a future in professional kitchens. They also showcase the fantastic student and lecturer talent around the UK, and the brilliant catering colleges they are associated with.
"The standard shown in this year's competition has been amazing so a big thanks to all the teams and lecturers for all their effort."
Full awards given out on the day (during ScotHot, 13 March) are as below:
City of Glasgow College – gold (Best in Class)
Loughborough College – gold
Carlisle College – silver
University of Derby – silver
Ayrshire College – bronze
Coventry College – bronze
SERC – merit
Newcastle College – merit