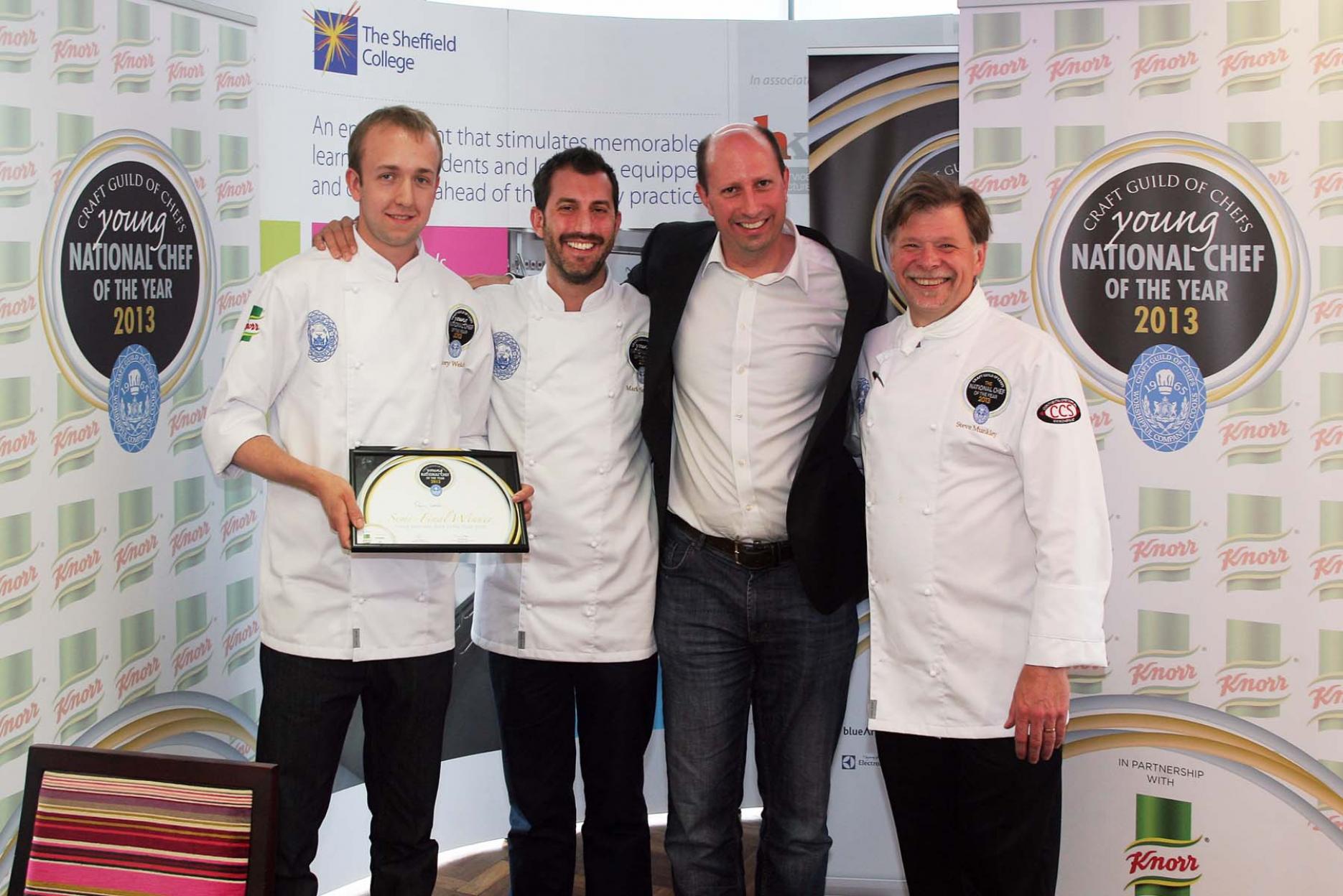 22nd June 2013
First National Chef and Young National Chef of the Year finalists announced
The National Chef of the Year and Young National Chef of the Year semi-finals went ahead at Sheffield College on June 18 without a hitch other than a fire alarm going off in the middle of the cook-offs, which did not deter the competitors.
Winner of the National Chef of the Year semi-final was Andrew Wright, junior sous chef at Mallory Court Hotel in Warwickshire, who for the second year running has got through to the final.
The Young National Chef of the Year semi-final winner was Rory Welch of the Broad Chare Pub in Newcastle, who received his certificate alongside YNCOTY ambassador Mark Sargeant, Unilever Food Solutions category marketing director Stefan Horsnell, and Craft Guild vice president Steve Munkley.
A second round of semi-finals will now take place at the University of West London on July 2 and 3 – three heats for the National Chef and one heat for Young National Chef.
It is the first year the latter has held semi-finals as in previous years all eight finalists have been automatically selected by the Craft Guild of Chefs.
This year only four automatically go through, the remaining four being made up of the winners and top scorers from the semi-finals, who are all chefs from industry-wide competitions. The competition is open to chefs aged 18-23 and is in partnership with Unilever Food Solutions' brand Knorr and in association with Lockhart Catering Equipment and Churchill.
In the NCOTY competition, the eight finalists are made up of the winners of the four heats, plus the four overall highest scorers.
The final for both competitions will take place at the Restaurant Show at Earls Court 2 in London on October 8.
For more information, visit www.craftguildofchefs.org, contact Clair Bowman on 01293 610329 or follow @TNCOTY #YNCOTY on Twitter.