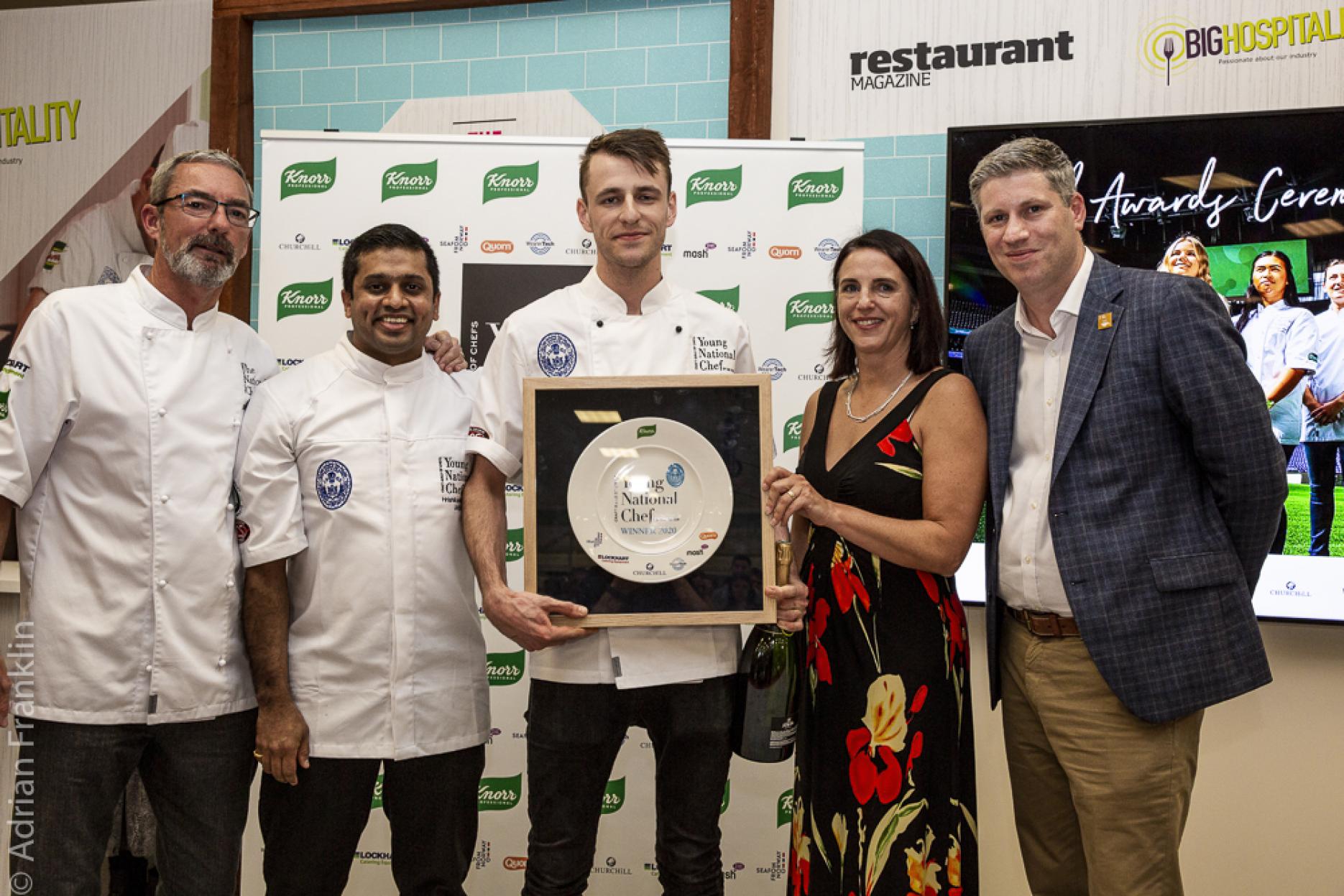 9th October 2019
Craft Guild crowns Young National Chef of the Year 2020
William Keeble, demi chef de partie at Whatley Manor, was named the Craft Guild's Young National Chef of the Year 2020 after beating nine other young chefs in a cook-off at The Restaurant Show.
The ten finalists were asked to create two different vegetarian or vegan canapés for the starter and a Norwegian cod main course garnished and served with a hot, warm or cold sauce. The finalists served a plated dessert using a Victoria sponge as a base.
Hrisikesh Desai, chair of judges for the YNCOTY competition, said: "It wasn't easy to decide the winner and it was extremely close, coming down to tiny details but I think we've got a fantastic winner. William balanced the flavour well and showed artistry in his work.
"He showcased a lot of skill elements that can be easy to mess up under pressure and on top of that his organisation was incredible. He was cool, calm and showed that he has practised and wanted to push himself to the absolute limit."
In second place was Jordan Powell, chef de partie at South lodge Hotel and George Harding, senior chef de partie at the Atlantic Hotel took the final place on the podium.
Churchill ran its 'People's Choice' prize for a candidate from both finalists who showcased 'exceptional presentation.' The award was awarded to Bethan Disley-Jones for her main course in YNCOTY competition after receiving the most votes on Twitter.
Although the Young National Chef of the Year title is the main prize, Keeble will also enjoy:
One year's membership to the Craft Guild of Chefs. 
The 2019 YNCOTY winner will win the opportunity to grow professionally via a work development or trial session in a Michelin starred restaurant, valued at £2,500. In addition, they will promote this trial via an Instagram take-over and blog post with Knorr Professional and Unilever Food Solutions to further raise their profile. 
This year's Young National Chef of the Year winner will join Michel Roux Jr for the culinary trip of a lifetime to Norway, in conjunction with Seafood from Norway. Over three exciting days in February 2020, they'll celebrate the Skrei cod season (a seasonal Norwegian delicacy) at a fishing village with local hospitality, plenty of fantastic food with fishing, hot tubs and hopefully sightings of the northern lights. On their return, the winner will have the opportunity to cook a signature Skrei menu at a high-level luncheon for press, chefs and industry members, hosted by the Norwegian Embassy and Michel Roux Jr. 
As well as a product prize of £250 and a framed presentation plate, Churchill will also be taking the winner to a European city for a Gastronomic Experience trip. 
A bespoke knife to be made for the winner of the Young National Chef of the Year.
The competitions are run in partnership with KNORR and Lockhart Catering Equipment and are supported by British Premium Meats, CCS, Churchill, Direct Seafood, Evolve Recruitment, HIT Training, Mash, Norwegian Seafood, OpenTable, Ritter Courivaud, Santa Maria, Sousvide Tools, UNOX, Quorn and WearerTech. 
You can continue to follow the story of the competitions on Twitter with @Craft_Guild and #NCOTY and #YNCOTY and on the website at www.nationalchefoftheyear.co.uk