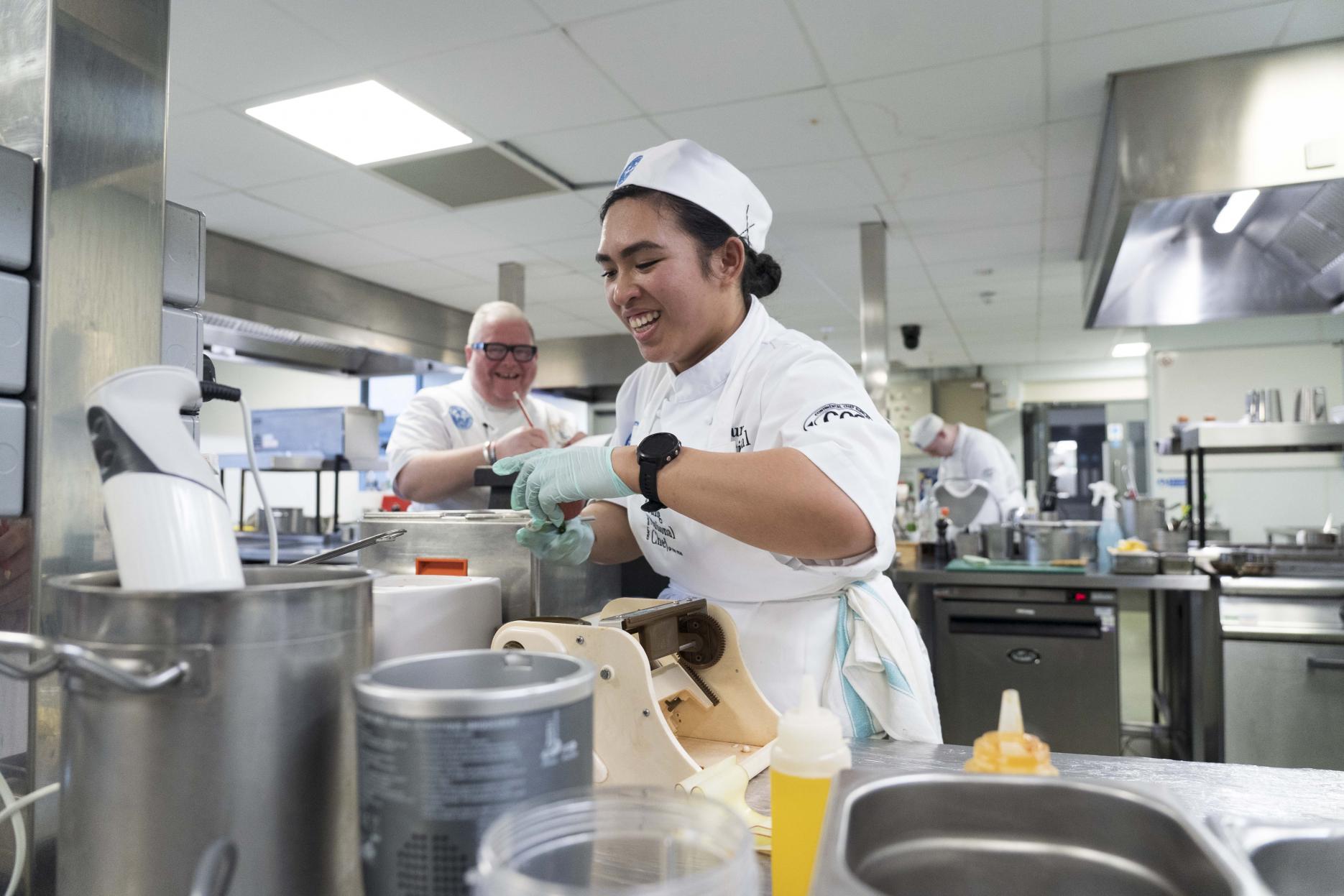 28th July 2023
Craft Guild of Chefs unveils rising stars competing for Young National Chef of the Year title
It's been a nervous wait for young chefs across the UK, but the Craft Guild of Chefs can now reveal the ten finalists for Young National Chef of the Year (YNCOTY).

Finalists received their exclusive chef's jacket from Continental Chef Supplies (CCS) in the post, sealing the deal that they will be cooking for some of their culinary heroes at the final in October.
Three of the finalists have been seeded for their involvement in some of the UK's most prestigious culinary titles for young chefs, whilst others had to impress the judges in a semi-final round. As entry to this event is by invite-only, all the candidates had been recognised for their work in competitions or put forward by a judge who has seen their impressive talent in the kitchen. 
The finalists for this year are:
Benjamin Mabley, senior chef de partie, Hartwell House Hotel & Spa
Georgia Abernethy, pastry chef, Posh Nosh Ireland
Jonny Smith, junior sous chef, Gravetye Manor
Joshua Singer, senior chef de partie, Scott's, Richmond
Maciej Pisarek, demi chef de partie, The Savoy Hotel
Miltan Masha, senior sous chef, Monarch Theatre
Nathan Johnson, junior sous chef, Royal Crescent Hotel & Spa
Nicole Watt, ABCS, Royal Navy, HMS Defender
Sam Dixon, demi chef de partie, Northcote
Billy Etheridge, demi chef de partie, Le Manoir Aux Quat'Saisons
Two chefs have also been named as reserves for the final, George Baldwin-Edie and Harry Donnelly. 
Chair of judges for YNCOTY, Lisa Goodwin-Allen said: "Overall, the standard of entries was really impressive. You could really see the personalities of the chefs coming through their menus and how much they had pushed themselves to take a top spot.
"As well as the balance and flavours of menus, we consider how easy it will be for the chefs to deliver their dishes in a different kitchen and within the time constraints. All the finalists have created something that looks both achievable and delicious and I can't wait to taste these dishes."
The finalists will attend a mentor day on Wednesday 6th September at the Waitrose Food Innovation Studio. With a series of masterclasses, skills challenges and a panel discussion, alongside the finalists of National Chef of the Year, it's set to be an insightful day with the chance to connect with sponsors, judges and fellow finalists. 
David Mulcahy, YNCOTY competition director and food innovation & sustainability director at Sodexo UK and Ireland, added: "We've put together an impressive mentor day that allows finalists from both competitions to come together and learn from each other as well as from the sponsors who are all experts in their own fields.
"It's going to inspire the chefs whilst really helping them to fine tune their dishes and skills ahead of the final. Every year we look at how we can make this competition even better and challenge the young chefs. They put so much time into the competition we want them to get as much out of the experience as possible."
The Young National Chef of the Year competition is supported by Churchill, HIT Training, Seafood from Norway and Sodiaal.