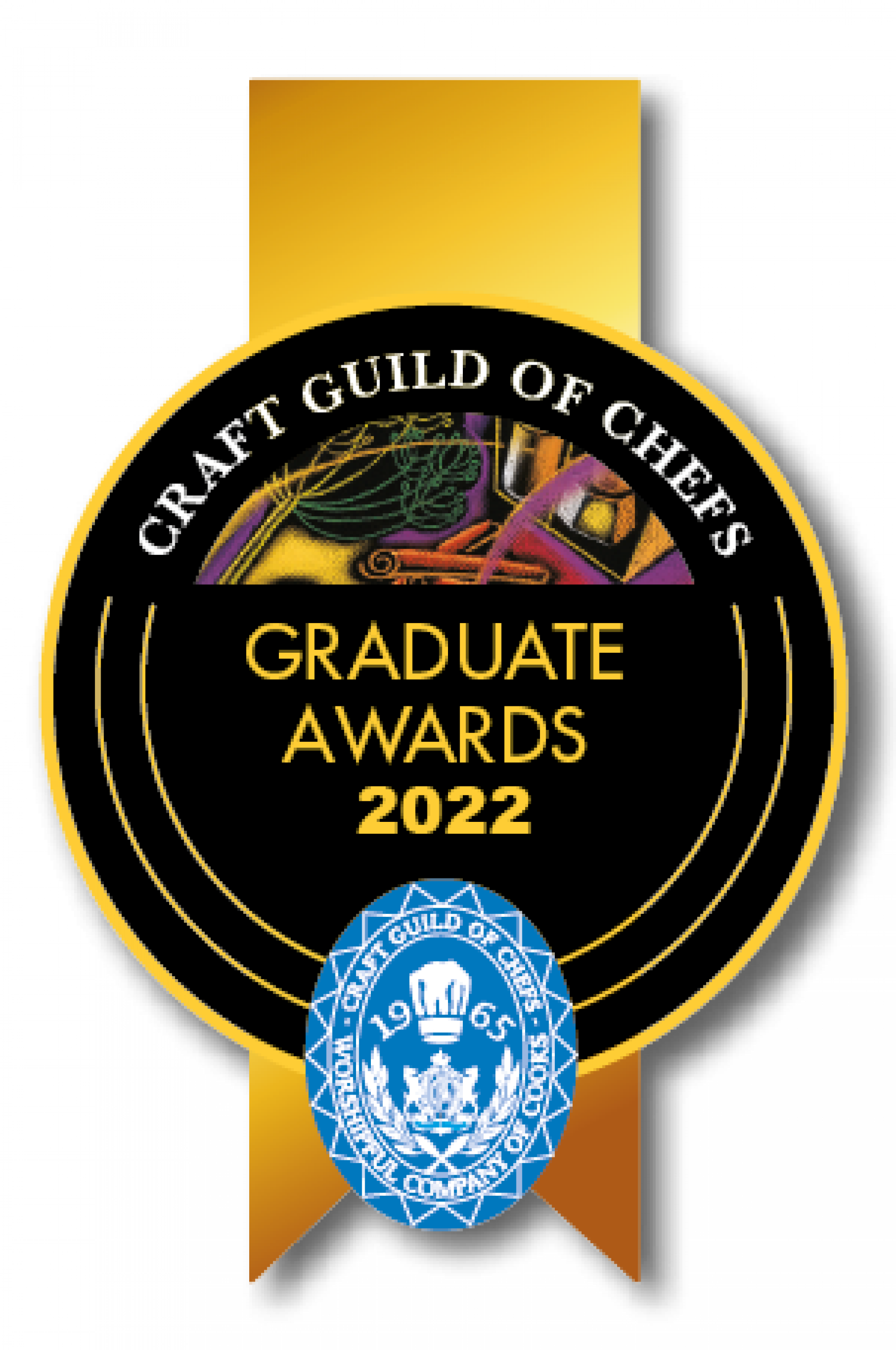 17th May 2022
Craft Guild of Chefs reveals 37 semi-finalists for Graduate Awards
An impressive 37 chefs will be putting their culinary skills and knowledge to the test in the semi-finals of the Craft Guild of Chefs Graduate Awards next month.
In a bid to achieve the pass mark in the 20th year of the event, chefs will be using a range of inspiring mentoring videos created by Westminster Kingsway College to help them practise for the next stage. The semi-finals will take place at West Herts College, Watford and Sheffield College, with chefs taking on both theoretical and practical exams during the day.  
The Graduate Awards offer chefs aged under 25 the chance to improve their culinary skills, build confidence, network with industry peers and the opportunity to put themselves into the national spotlight.
Graduate Awards achievers have gone on to win competitions such as Young and Senior National Chef of the Year, secure exciting promotions, and gain Michelin stars of their own.
Taking part in the Sheffield Kitchen semi-final will be: 
Brandon William Stokoe, Jesmond Dene House Hotel
Billy Etheridge, Le Manoir aux Quat'Saisons
Carlos Patrick Lopez Sexton, Jesmond Dene House Hotel
Chloe Williamson, Prestwold Hall
Jack Baldwin, The Staveley Arms
Matthew Gallagher, New Hall Hotel & Spa
Megan Beale, Dumbleton Hall Hotel
Michael Jones, Grantley Hall, Fletchers Restaurant
Miltan Masha, The Monarch Theatre
Samantha Watkins, Sapori
Sam Dixon, Northcote Hotel
Thomas Finn, Coworth Park
Completing the London Kitchen semi-final will be:
Alex Doyle, Marcus Belgravia
Benjamin Mabley, Hartwell House Hotel & Spa
Callum Davison, Lucknam Park Hotel and Spa
Cameron Jones, The Waterside Inn
Cloe Walsh, Snaffles Restaurant, Castle Leslie Estate
Gabriella Mosca, Norton Rose Fulbright
Harry Donnelly, The RAF Club
Joshua Sealey, Fallow Restaurant
Jonathan Smith, Gravetye Manor
Kenny Markham, The Falcon, Castle Ashby
Liam Balmer, Lucknam Park Hotel and Spa
Maisie Brown, The Newt in Somerset
Toby Whitehead, Coworth Park
The chefs through to the next round of the Pastry Graduate Award are:
Ana Catarina Nogueira De Melo, Intercontinental Park Lane
Catherine Glover, Pettigrew Bakeries
Daniel James Scriven, Pillars Restaurant
Danielle Rose Valerio, Pillars Restaurant
Destiny Kodheli, University of West London
Hoi Yan Tam, Brown's Hotel
James Pache, Pillars Restaurant
Katrina Atienza, University of West London
Liberty Noke, Monkey Island Estate
Max Gaitskell, Pillars Restaurant
Miles Slater, Pennyhill Park Hotel and Spa
Sanjam Nagpal, The Dorchester
Founder of the Graduate Awards and vice-president of the Craft Guild of Chefs, Steve Munkley said: "Having just come back from an incredible Graduate Awards prize trip to Lyon with Grande Cuisine, I've seen first-hand the impact that achieving this award can have on a young chef. As well as the mentor experience which all finalists will enjoy, there are some incredible prizes on offer this year too.
"I'd encourage all those who have made the semi-final stage to practise and study as much as possible. The chefs who have the most success in the Graduate Awards are those who put the work in, the ones who are hungry to achieve the pass mark and are determined to showcase their skills. Use the next few weeks wisely and grab this opportunity you've been given with both hands."
You can follow updates on the Graduate Awards by following the Craft Guild of Chefs social media channels or the hashtag #CGCGradAwards.
The Graduate Awards are sponsored by The London Meat Co, Oranka, Savoy Education Trust, Reynolds, Meiko UK, Essential Cuisine, City and Guilds, Robert Welch, Villeroy and Boch, CCS, Mars Foods, James Knight of Mayfair, Worshipful Company of Cooks, CCE London Ltd, Hoshizaki UK, University of West London, Tilda, Lakeland Dairies Foodservice, Grande Cuisine, The Caterer, Redefined Meat, Adande, Eurilait, PizzaSi UK, Indeed Flex, Wrapmaster and Maldon Salt.