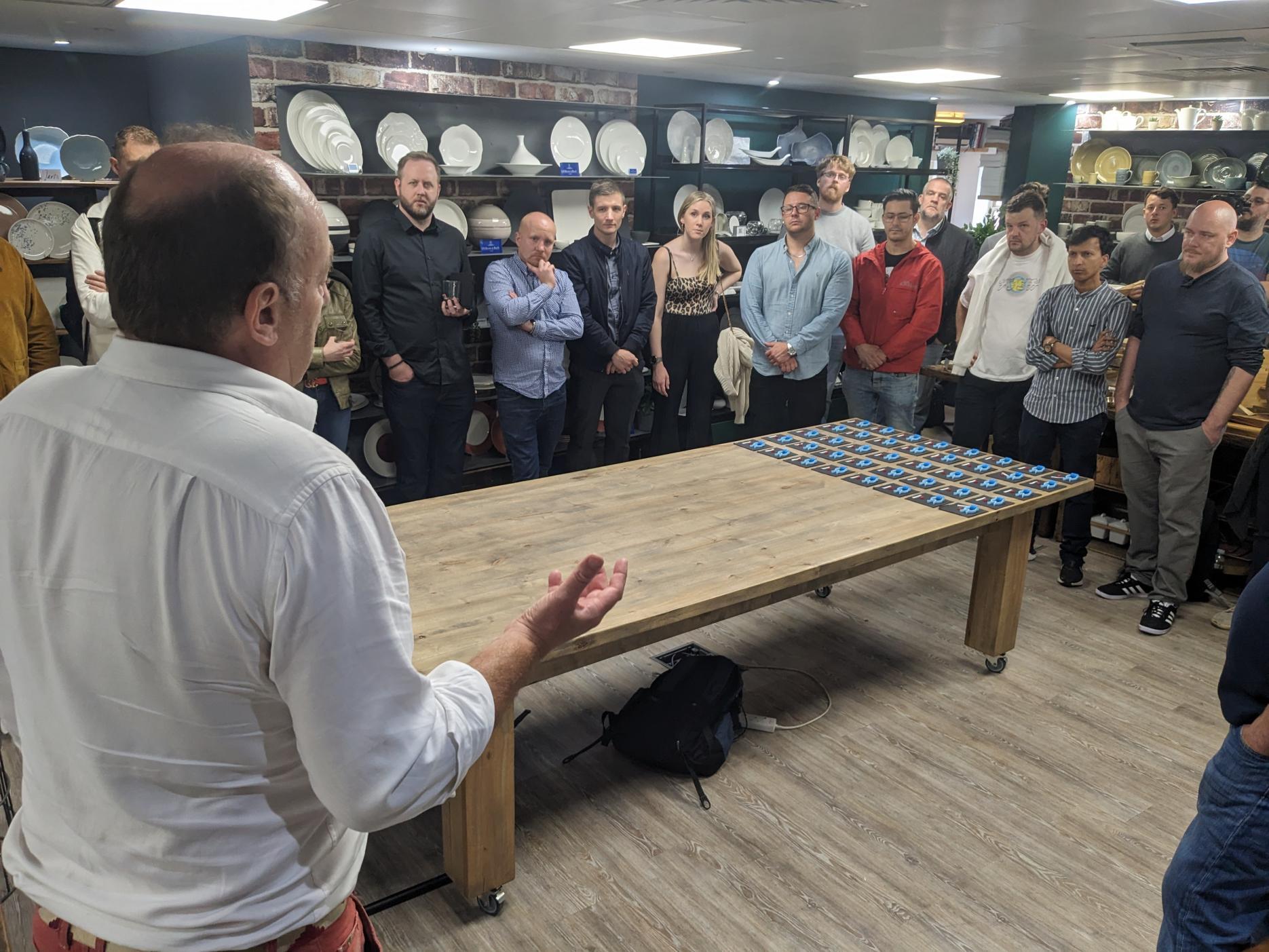 8th August 2023
Competition sponsors take NCOTY semi-finalists on 'immersive culinary journey'
National Chef of the Year (NCOTY) sponsors Churchill and Continental Chef Supplies combined to host an event alongside immersive dining experience experts 'Kitchen Theory' and Experimental Psychology Professor Charles Spence to explore the theory of flavour and taste perception at the CCS London Showroom.
The workshop for this year's NCOTY semi-finalists and Craft Guild Graduate Award finalists included innovative sensory stations focusing on the impact of sound, shape and aroma.
The day began with a talk by Oxford University Professor of Experimental Psychology Charles Spence that was accompanied by taste tests exploring everything from mental palate cleansers and the impact of colour on taste, to the importance of the weight and shape of crockery in food presentation.
"This event really highlighted the importance of innovative industry events; with chefs from all over the country coming together, some for the first time, to discuss ideas and exchange stories," said Simon Britten of Continental Chef Supplies.
"Professor Spence was a real highlight for us, with insights into super-tasters amongst many other innovative gastronomic theories."
The main event was led by Chef Josef Youssef, who treated the chefs to three immersive sensory experiences to expand their perception of taste and flavour.
To explore 'Sound & Texture' they were given audio stimulation through headphones while tasting a sustainable dish of jellyfish and seaweed salad.
'Shape & Flavour' explored the correlations between these two facets with a spiced jackfruit doughnut coupled with a Hearts of Palm salad on a tapioca crisp.
The sensory experience 'Aroma' showcased the impact of smell on flavour with a brioche dessert and a kombucha cocktail.
David Mulcahy, vice president of the Craft Guild of Chefs, said: "The Craft Guild of Chefs National Chef of the Year competition programme offers opportunities for chefs to grow and learn throughout the process.
"This is made possible with the support of our valued sponsor partners where chefs can access amazing opportunities to develop knowledge to support their careers.
"The workshop at the CCS London Innovation Centre was a great example of a collaborative event and I would like to thank Continental Chef Supplies and Churchill for hosting a truly inspiring afternoon for this year's NCOTY semi-finalists."
You can watch a video of the event by clicking here: https://youtu.be/01EN6ElHKBg