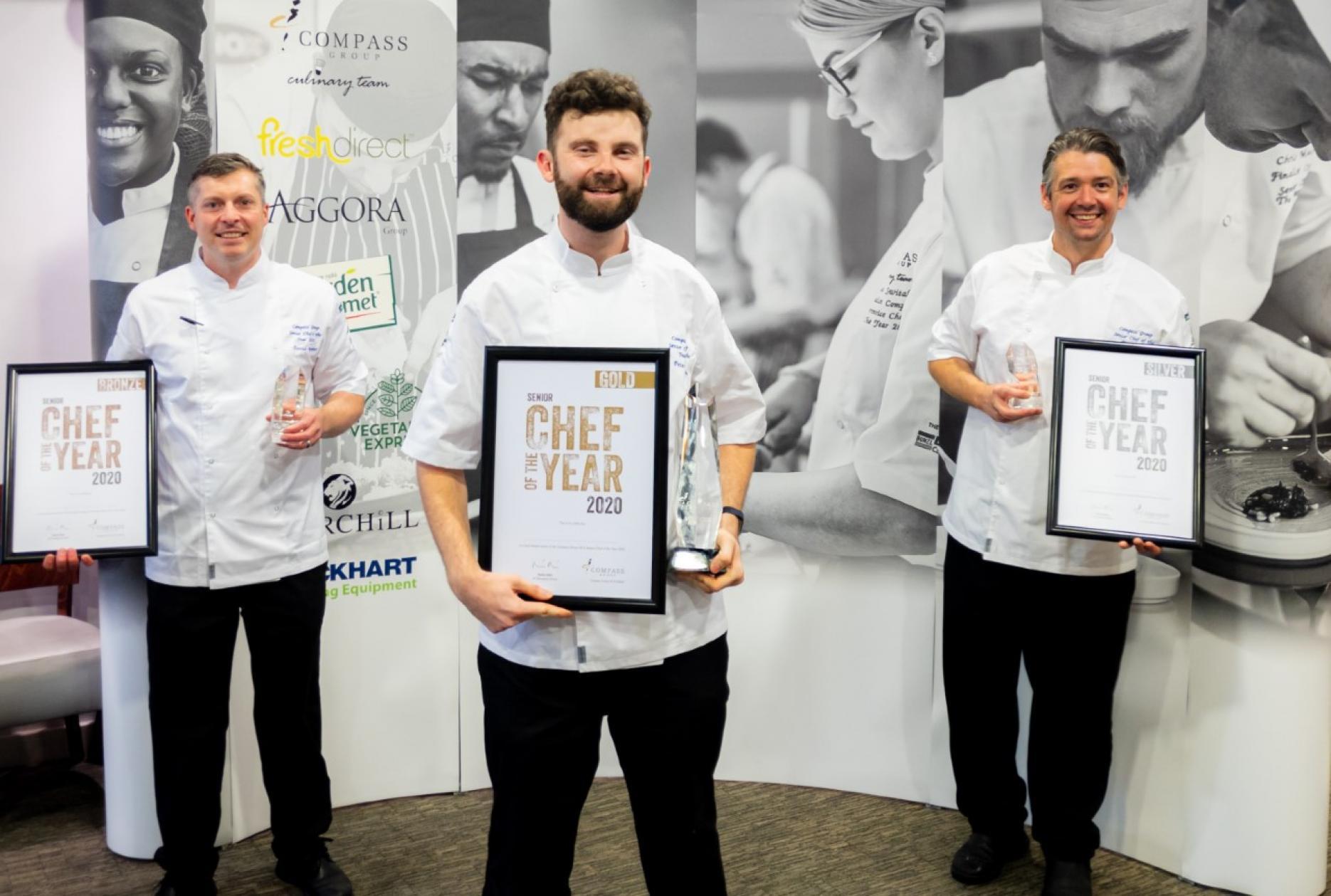 3rd November 2020
Compass announces Chef of the Year winner
Peter German from Restaurant Associates was crowned the Compass Chef of the Year with his main of hay and juniper smoked chicken crown, salt baked celeriac, girolles and leek cep jus.
Operating in a Covid-19 safe format chefs from across the business pitted their skills against one another at West Herts College at the end of October.
The senior chefs had two hours to create a three-course menu using seasonal produce. The menu had to feature a vegetarian or vegan starter, a British chicken-based main and an autumnal dessert.
German cooked a starter of red kuri squash, kohlrabi and burnt pear purée, turnip sauerkraut and celery. He made green apple parfait, dill meringue, cider apple granita and goat's yogurt for dessert.
He commented: "I was completely shocked, but it was a very welcome shock, and I couldn't be happier to have won Compass Chef of the Year! Spending time in my allotment with my fiancé over lockdown gave me time to experiment with different types of produce and I spent a lot of time in my kitchen enhancing flavours. This whole experience has without a doubt made me a better chef."
The judging panel included Craft Guild of Chefs national vice-chairman Matt Owens, head of pastry at Piglets Pantry Ana Paula Oliver and Andrew Wakeford head of school for food academy, restaurant services and hospitality at West Hurts College.
ESS Defence's Simon Coulter came second in the senior competition and David Bryant from Eurest took third place this year.
Izabela Ginter of ESS Offshore won the Compass Young Chef of the Year crown for her duo of pan roasted corn fed chicken served with seared tomato centred with wild mushroom, Jerusalem artichoke and fig purée. Followed by an orange infused Belgium dark chocolate and pistachio nut tart, Dundee marmalade steam pudding with vanilla bean ice cream and chocolate and pistachio soil.
The young chefs had 90 minutes to prepare a British chicken-based main and a dessert- both incorporating seasonal ingredients. 
Compass Young Chef of the Year saw Levy UK chef, Marek Sobczak, from The All England Tennis Club win Bronze and previous Compass Apprentice Chef of the Year winner, Sophie White from Chartwells Independent's Christ's Hospital School in Horsham take home silver. 
Nick Vadis, Compass Group UK and Ireland culinary director, said: "The standard was incredibly high again and I'm extremely proud of all our chefs for preparing in the right way, working through adversity and competing under strange conditions.
"Our chefs continue to surprise me with their flavour combinations, new techniques and cooking methods, we truly are blessed to have such passionate people at Compass. Well done to everyone who took part, not only in the finals, but in the heats, which took place throughout the sectors."
The Compass Apprentice Chef of the Year competition has been moved to National Apprenticeship Week (8-14 February 2021 to enable more young chefs to take part.