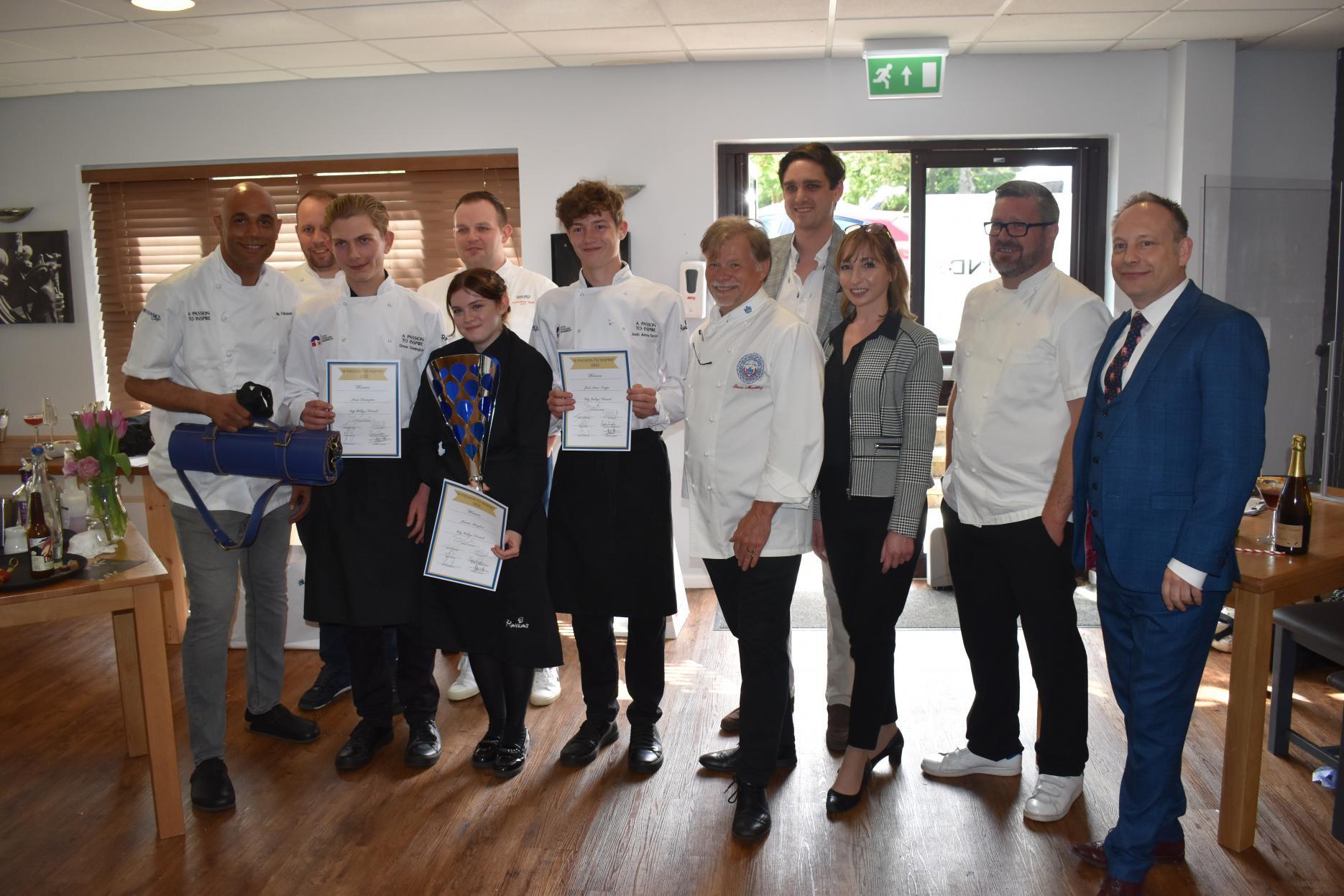 16th May 2022
City College Norwich wins A Passion to Inspire competition
The Team from City College Norwich demonstrated their passion for food and hospitality with their menu and service to win the 2022 A Passion to Inspire competition.
The winners Drew Denington, Josh Amos-Terzza (Kitchen) and Jasmin Boughen (FOH) as well as lecturer Paul Smith will now be invited to the Skills for Chefs Conference where they will meet culinary legends Pierre Koffmann, Paul Ainsworth and Hrishikesh Desai as well as winning a host of other experiences and treats.
The winning menu included:
Starter: Cured soy salmon; Nori, pickled cucumber, shitake mushrooms; Saint Clair Riesling New Zealand
Main: Roasted crown of Creedy Carver Duck; Duck leg pithivier, sprouting broccoli, red current jus; Cruel Mistress Pinot noir Western Australia
Dessert: Raspberry souffle; Marinated raspberries, pistachio crème anglaise, raspberry and strawberry sorbet
Raspberry chocolates: Cherry Bakewell cocktail
Smith, supervisor of City College Norwich's Debut Restaurant, said: "The standard of the competition was extremely high. It was hard day, it was a proper battle, and they really had to work for it.
"The judges said they were impressed with how our students handled themselves in the kitchen, and front of house, the feedback was great. I was so proud of the team. It was so rewarding at the end to see their faces. They were beaming with everything they had achieved. They did the college proud."
A Passion to Inspire was founded by Murray Chapman in 2009 and was set up to bridge the gap between up and coming catering and hospitality students and the hospitality industry. A Passion to Inspire has raised over £236,000 for various charities.
Chapman added: "The standard this year was extremely high and each team did so well. Congratulations to all seven colleges for reaching the final. Thanks must go out to our sponsors, judges, mentors and lecturers as without them this would not go ahead. Thanks also to Claire and the team at Edmunds for their fantastic hospitality.
"It is great to see these colleges and students coming together and being supported by local and national producers, suppliers and employers – it gives you faith that these young people can succeed in our industry!"
The winners of the best use of Wine and Cocktails were West Suffolk College who had a team of Sofia Pipe, Ewan Smith and Lois Thompson with lecturer Stuart Ascott.