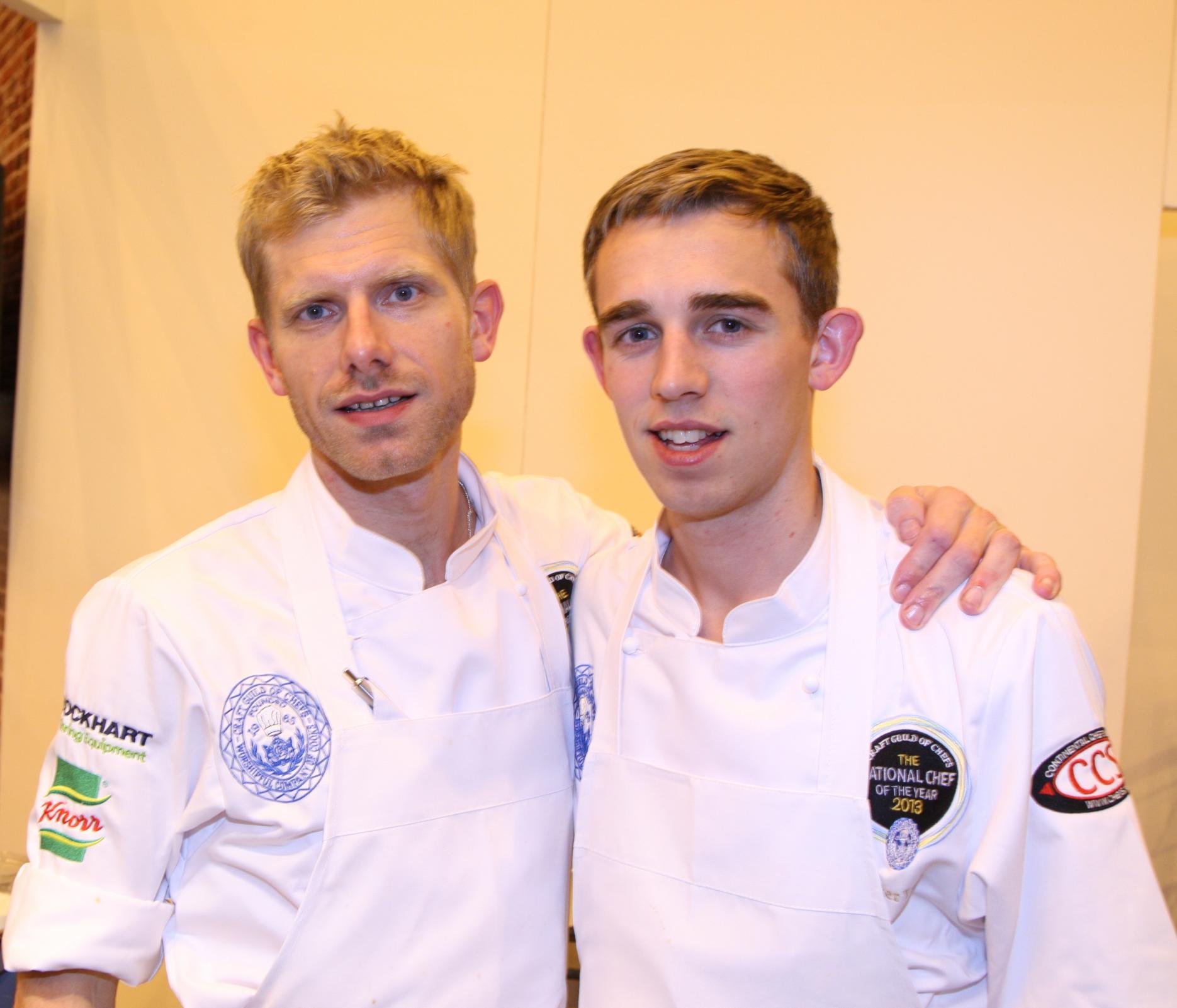 9th October 2013
BaxterStorey executive chef wins National Chef of the Year 2013
Hayden Groves has become the Craft Guild of Chefs' National Chef of the Year after impressing a tough judging panel, which included BBC Masterchef's professional chef judge Monica Galetti this year.
Groves, executive chef at BaxterStorey, won the crown after producing outstanding dishes at the final at the Restaurant Show at London's Earls Court on October 8.
Using seasonal ingredients from a mystery basket unveiled to this year's eight finalists at a mentor day prior to the final, he produced a menu consisting of soused Cornish mackerel, clams and passion fruit; rib eye of beef, pithivier, girolles and roasted Jerusalem artichoke; and a dessert of blackberry and apple', and caramelised white chocolate.
Groves, who follows in the footsteps of chefs such as Gordon Ramsay, Mark Sargeant and Simon Hulstone, praised the support from his "wing man", commis chef Peter Ley, and his family.
"The win still needs to sink in," he said. "I have a few thanks including my great wing man and my family who have stood by me for the past four years. My girls will be glad that they have a happy daddy coming home from work today."
Runners up were Simon Webb, head chef at contract caterer CH&Co, and Andrew Wright, sous chef at Restaurant 23 in Leamington Spa.
By winning the competition, Groves receives prizes that include an exclusive study trip to a three-starred Michelin restaurant in France, as well as a second study trip to Norway, master classes and specialist products and equipment.
Mulcahy said: "The standard was absolutely top notch this year, which I believe was helped by the mentor day we held prior to the final. The day gave our eight contenders the chance to view ingredients and meet sponsors, bolstered by an inspirational talk and masterclass from Michelin-starred restaurant chefs Philip Howard, and Alyn Williams a previous winner of the National Chef of the Year.
"Hayden who has been a competitor in previous years and who came in the top three last year was outstanding this year, although it was a very close competition right up until the end even in the judges' room. Hayden's determination should be a motivation for all chefs to come forward and compete including our other finalists."
Howard added: "We were looking for seasonality, good sourcing and a well balanced menu, and Hayden delivered this to a 'T' and absolutely deserves the most prestigious title in the industry. By becoming National Chef of the Year, he is definitely one to watch."
The judging panel included Craft Guild vice president and competition organiser David Mulcahy, chairman of judges Phil Howard, Monica Galetti, Angela Hartnett, Vivek Singh, Bruce Poole, Simon Hulstone, Gary Jones, Graham Hornigold, Paul Gayler, Gary Hunter, Henry Harris and Craft Guild vice chairman Lee Maycock.
This year's competition was in partnership with Lockhart Catering Equipment and Unilever Food Solutions' brand Knorr, and in association with CCS, Blue Arrow, Churchill, Electrolux, RARE, Cocoa Barry, Culinary Innovations and New Covent Garden Market.