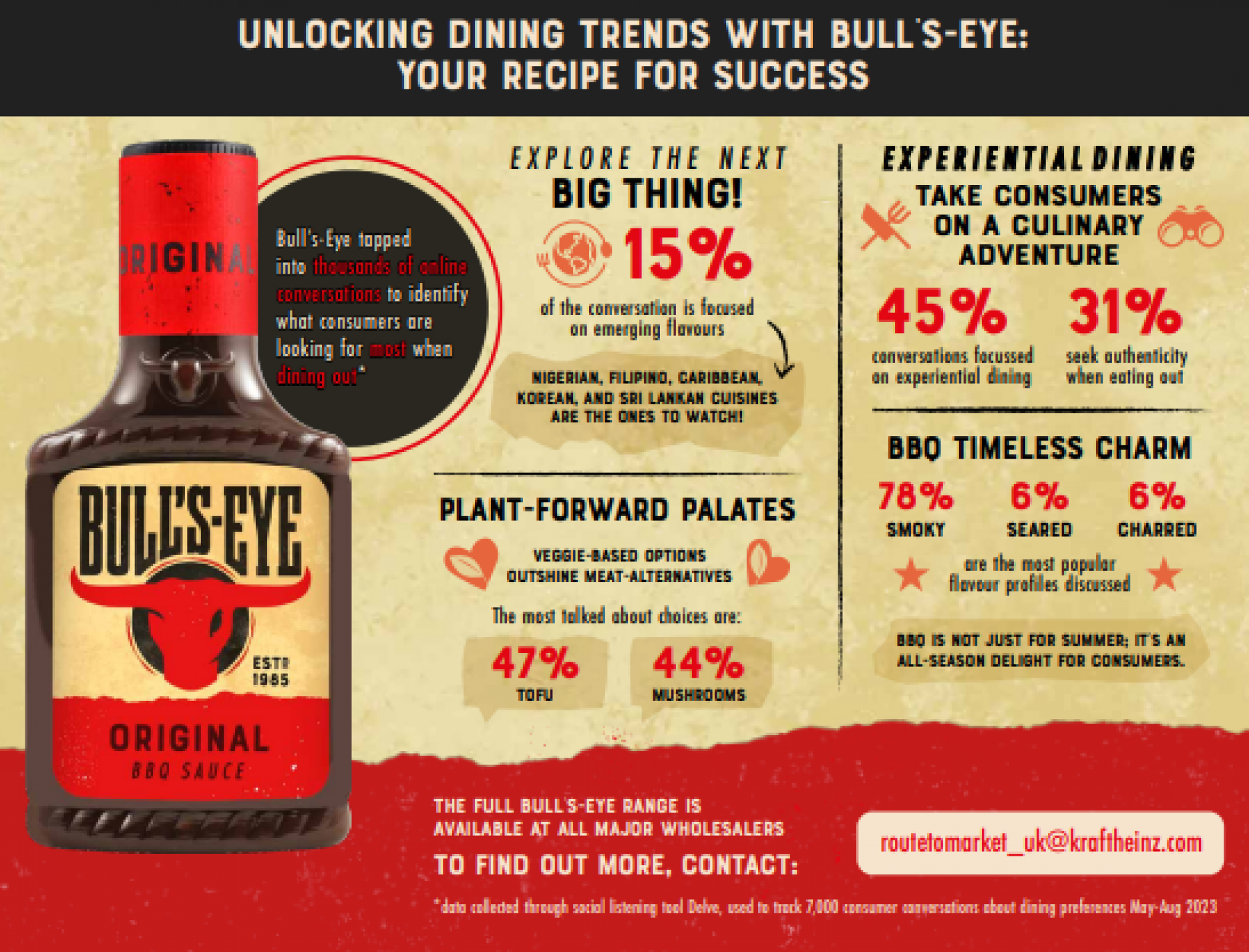 20th September 2023
Kraft Heinz identifies three key opportunities for dine out operators
Recent findings indicate that emerging flavours, experiential dining and veg-first plant-based eating are the key areas of opportunity for foodservice establishments as revealed by Bull's-Eye, Kraft Heinz's premium BBQ brand.
Bull's-Eye's insights are a result of extensive social listening research, tracking and analysing more than 7,000 conversations related to dining out and BBQ. It provides a deep understanding of consumer preferences and trends, valuable for operators looking to maximise on dine out occasions. 
Artemis Argyrides, foodservice marketing lead for Northern Europe at Kraft Heinz, said: "Customers are looking for new experiences when they are eating out. They want to be surprised. New, innovative cooking methods, such as adding smoke for drama are being used across restaurants to excite diners. Curious diners want culinary adventures and have come to expect more from dining out experiences."  
Emerging flavours
While the popularity of more established cuisines such as British (22.1%), Chinese (18.2%) and Thai (12.5%), continue to dominate online conversation, it's the emerging flavours that provide a glimpse into what consumers are looking for next.
Nigerian, Filipino, Caribbean, Korean and Sri Lankan cuisines made up 15.3% of the conversation. These budding cuisines have the intrigue of the consumer but are challenging to access. While one in four people in the UK have eaten African food in the past few months, almost half of people (47%) have not tried it but are interested in doing so.
Moreover, 45% of consumers eating out-of-home are eager to try Sri Lankan and 58% say that it is difficult to find. Understanding what diners would like to see on menus and their enthusiasm to experiment with new dishes will help operators satisfy diners and stay ahead of curve. 
Experimental dining
Experiential dining is still a rising trend, with 45% of conversations focussed on this. Over 30% also look for authenticity when eating out. Diners, now identified as 'Experientialists', are seeking innovation, new culinary experiences, and authenticity. This trend is expected to continue to flourish, presenting a golden opportunity for foodservice operators to explore creative menu options and experiences. 
Vegetable-based options
While meat options dominated the social listening share of voice (82%), a quarter of brits now believe that eating meat every day is no longer acceptable. As a result, veggie-based options are still in demand.
Bull's-Eye's research discovered that people are looking for more vegetable-based options rather than meat-alternatives, with tofu (46.8%) and mushrooms (43.7%) coming out on top for diners.  
Bull's-Eye
Argyrides added: "Through the versatile Bull's-Eye range, authentic dining experiences can be created with minimal fuss. Experimenting with dishes has never been easier. Consider adding Bull's-Eye Original sauce to spatchcock chicken for a twist on African Braai or use the Louisiana Chipotle as a dipping sauce for black-eyed bean fritters."