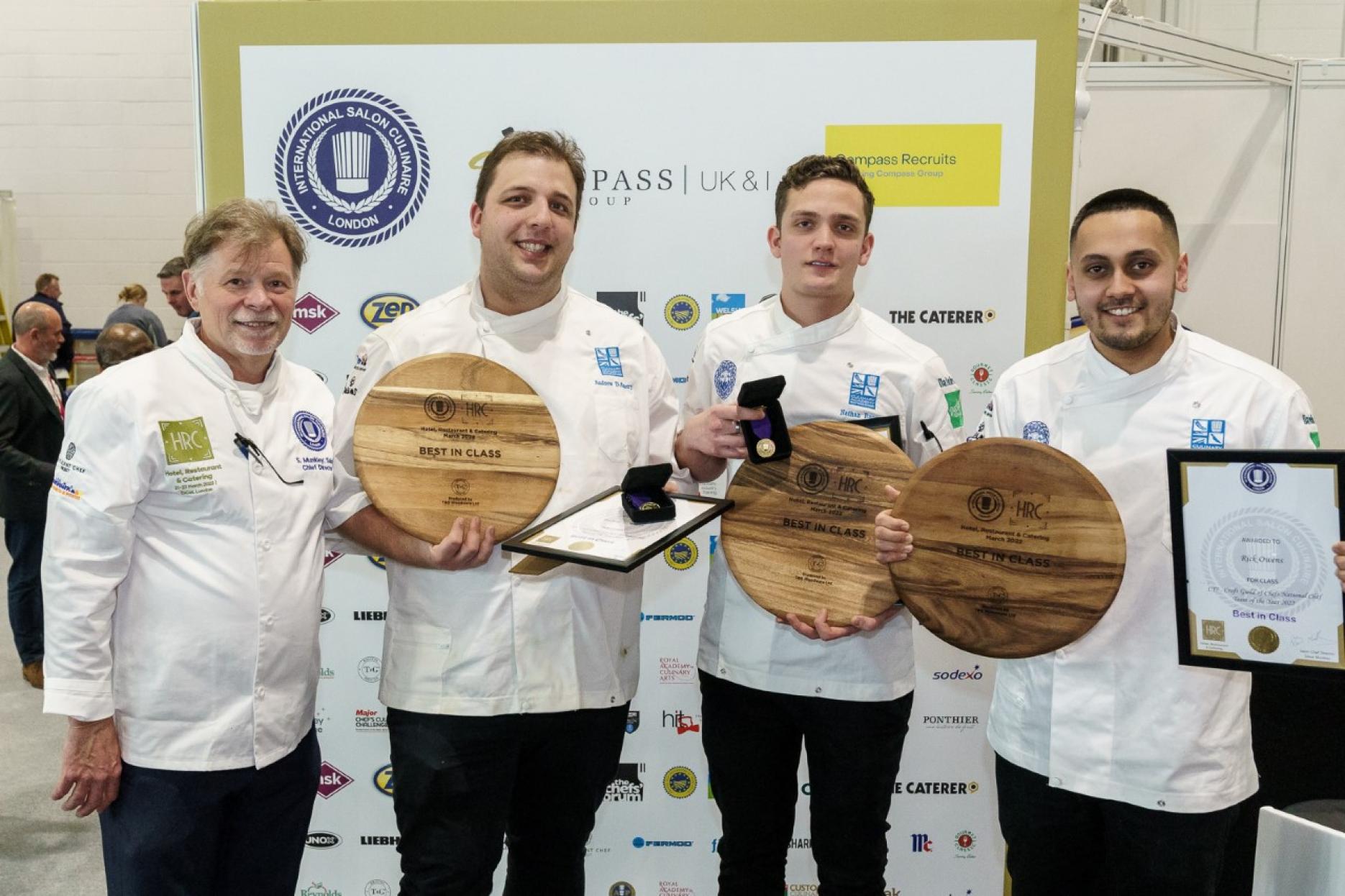 13th February 2023
Craft Guild of Chefs supports HRC
On 20-22 March at ExCeL London, HRC 2023 will be showcasing all the latest developments in the hotel, restaurant and catering sectors.
As in previous years, the Craft Guild of Chefs will be there, hosting a variety of competitions and other events. With its mission to increase standards of professional cooking through greater awareness, education and training, the Craft Guild of Chefs will always be heavily involved with HRC. This year's event promises to be 'the best one yet'.
Steve Munkley, vice president of the Craft Guild of Chefs, said: "This is the highlight of the hospitality industry's calendar. It's a superb forum for discovering what's new, and a great platform for chefs of all kinds to demonstrate their skills and learn from each other. We simply have to be there."
Here are some of the Guild's activities at HRC:
Craft Guild of Chefs National Chef Team of the Year competition
In its second year, the competition is now sponsored by Waitrose & Partners, and challenges two-person teams to create food-bowl dishes for a stand-up event. Each entry of between three and five dishes must be substantial enough for an evening meal and must use three products from the Waitrose Cooks' Ingredients range.
Last year's winners were Tottenham Hotspur FC, with Chefs Andrew D'Amery, Nathan Racey and Rick Owens winning a Gold Award and Best in Class.
The competition is part of the International Salon Culinaire, a series of back-to-back classes and competitions in the Live Theatre at HRC. Regarded as one of the world's most prestigious events for chefs, it's open to all levels – from young trainees to those established in their culinary career – and the judges include members of the Craft Guild of Chefs.
Phoenix Dinner
Together with the British Culinary Federation, the Craft Guild of Chefs is hosting a fund-raising dinner to celebrate and support the hospitality industry. With the theme of 'Rising from the Ashes of the Pandemic', the Phoenix Dinner will raise money for Kelly's Cause, a mental-health charity, and Hospitality Action, which helps all those who work, or have worked, in the industry.
Country Range Student Chef Challenge
Designed to enhance students' skills, experience, understanding and confidence, this competition takes place over a number of live heats, with the 90-minute final at HRC.
With some of the country's leading chefs in the audience, this is a great opportunity for the participants to get noticed. It also helps them become better planners, team players and all-round cooks, while giving them a valuable insight into life in a fast-paced kitchen.
Tilda Chef Team of the Year
The Guild has joined forces with Tilda to set this challenge for eight pairs of chefs. In just 45 minutes, they have to prepare, cook and present two portions of a main course and dessert, using Tilda rice products as base ingredients.
Reflecting this year's theme of celebration, the chefs can take inspiration from any festival, anywhere in the world. The lucky winners will be treated to an expenses-paid trip to Vercelli and the Piedmont region of Italy.