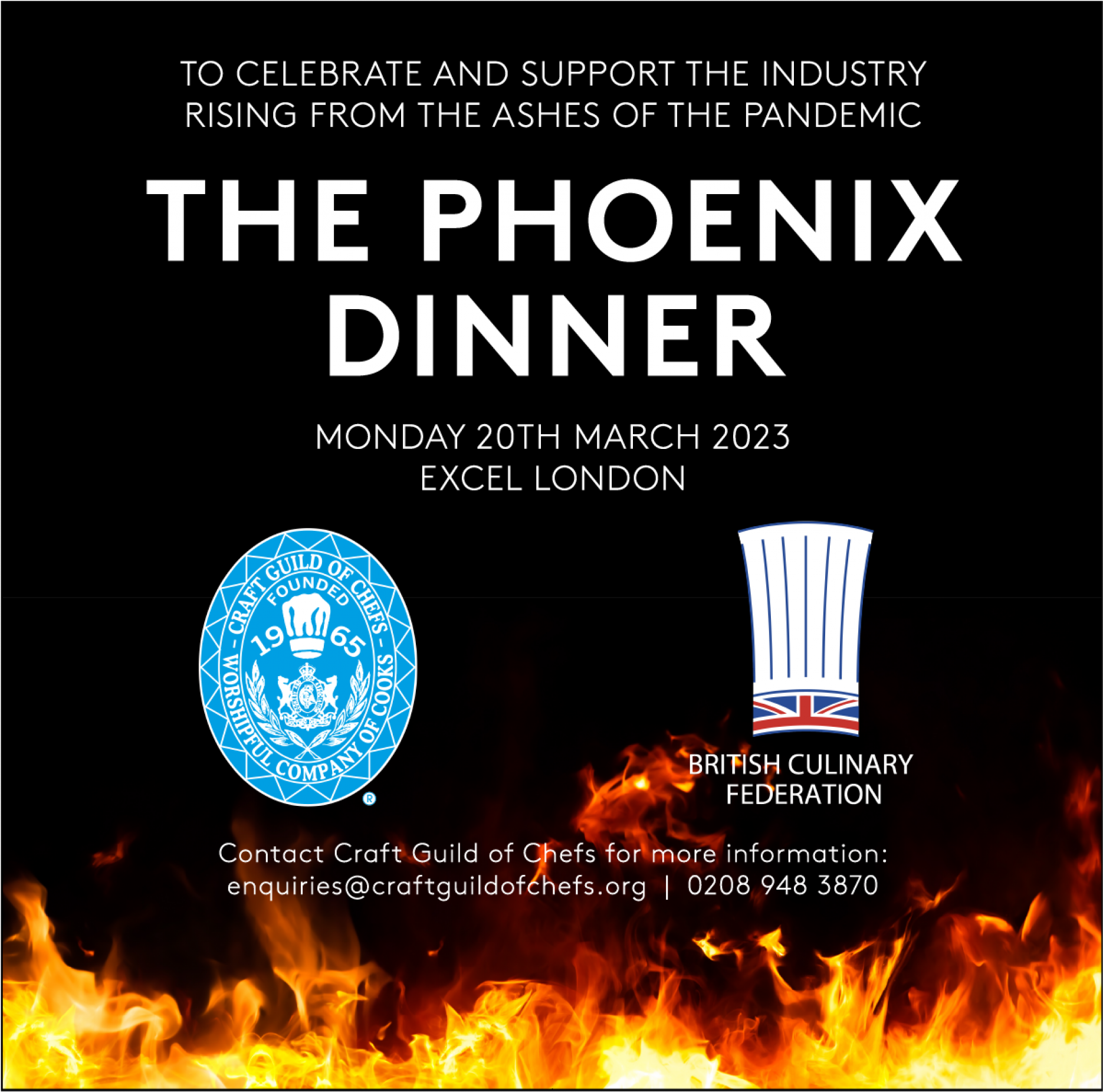 17th November 2022
Craft Guild of Chefs and the BCF announce 2023 Phoenix Dinner date
Two of the leading chefs' organisations in the UK, the Craft Guild of Chefs, and the British Culinary Federation, have announced a historic charity fundraising dinner to celebrate and support the hospitality industry.
The fundraising dinner, themed 'Rising from the Ashes of the Pandemic' will take place on Monday 20th March 2023 at Excel London during the Hotel, Restaurant & Catering show (HRC). It will raise money for two important charities, Kelly's Cause and Hospitality Action.
Matt Owens, Craft Guild of Chefs' chairman, commented: "Our beloved industry has been truly tested over the last few years. It's a testament to our resilience that as a group we continue to adapt and move on. Whilst there are many challenges to still overcome, we wish to celebrate the industry's formidable strength and courage through the pandemic.
"As such, we are delighted to organise The Phoenix Dinner in partnership with the prestigious British Culinary Federation, to show our appreciation and support to this wonderful industry whilst working on the roadmap to recovery.
"We have come together to support the people and places that have suffered the most in the only way we know how - to deliver a world-class dinner with world-class food, to an audience of industry mentors and supporters."
Tickets are £99 each and they are available now from the Guild of Chefs office or email [email protected].
Lee Corke MA, British Culinary Federation Chairman, added: "I cannot think of a better venue and date to coincide with the industry's premier event, the HRC show for this industry first dinner. To have unity with the Craft Guild of Chefs highlights both associations commitment to our industry and the difficulties we have all faced since the start of the pandemic.
"The pandemic has affected all of us in hospitality in some way or another, whether this is from the furlough scheme to having to close businesses. We are raising monies for two very worthwhile charities to ensure further support to our industry professionals. Please support this unique collaboration between the Craft Guild of Chefs and the BCF."