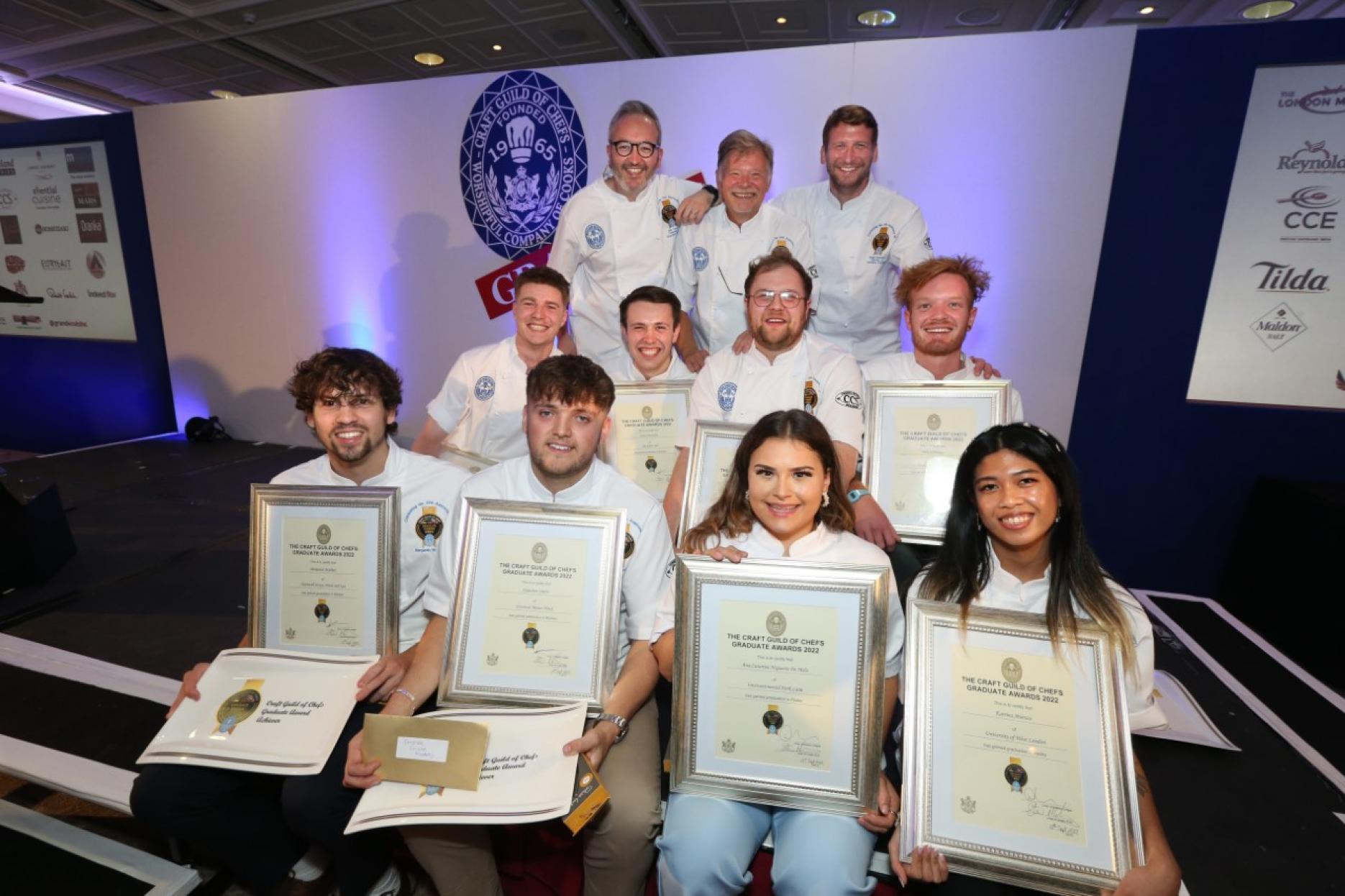 7th March 2023
Craft Guild of Chefs aims to celebrate 100 Graduate Award Achievers in 2023
Talented and ambitious chefs have an exciting opportunity to push themselves into the spotlight and test their culinary skills at the Craft Guild of Chefs Graduate Awards 2023.
Over the last two decades, the Guild has seen an incredible 93 chefs achieve the pass mark and join an impressive list of names in the Graduate Awards 'hall of fame'. Former achievers of the award include Mark Froydenlund, Sophie Wright, Luke Selby and Ruth Hansom who have all gone on to have successful culinary careers.
The Graduate Awards were founded, and are still led, by Steve Munkley, who is vice-president of the Guild. He wanted to provide chefs in the early stages of their career with the opportunity to develop the skills they learnt at college and refine them in the workplace.
Known as an exam rather than a competition, it provides a platform for chefs to progress to events such as Young National Chef of the Year. Those who make the grade receive a host of prizes ranging from culinary trips of a lifetime to products from the awards' sponsors.
It only takes a few minutes for a young chef to enter the Graduate Awards, but it could be lifechanging. Chefs aged under 25 on the 1st of September 2023 are asked to complete an online form which is available via https://craftguildofchefs.org/competitions/graduate-awards.
Founder of the Graduate Awards, Steve Munkley said: "Following our 20th anniversary celebrations last year we are now just seven chefs away from celebrating 100 Graduate Awards Achievers and our committee are determined to push through that goal this year. With support from mentors, our skills demonstration videos and the memorable two-day trip for finalists we're determined we'll be celebrating this special milestone."
Chefs can choose whether to enter the Kitchen or Pastry Award but must submit by midnight on Wednesday, 19th April 2023. The Pastry Graduate Awards are driven by Will Torrent and Sarah Frankland, and are aimed at young pastry chefs, chocolatiers or level 3 students. Entrants do not need to be members of the Craft Guild of Chefs.
All the chefs who make the final in Kitchen and Pastry will be whisked away on a two-day Suffolk food tour in July where they will visit Aspalls Cider, Dingley Dell Farm, Pump Street Bakery and experience butchery, fishmongery and dessert demos at Infusions4Chefs. Finalists will also enjoy an overnight stay at Ufford Park Hotel.
New chair of examiners for the Kitchen Award, Ben Murphy, who is chef patron at Launceston Place added: "It is a huge honour to be chair of examiners for the Graduate Awards and take over the reins from Russell Bateman who has inspired so many young chefs in recent years.
"Having entered the award myself, and mentored chefs through the experience, I know what a massive difference it can make to someone in the early stages of their career. It is vital that senior chefs support and inspire young people to help them develop their skills and ensure the hospitality industry continues to thrive."
Will Torrent, chair of pastry examiners and senior development and innovation chef at Waitrose & Partners, commented: "It's time for us to put some new pastry chefs in the spotlight and we are confident we can build on the success of 2022 which saw the highest number of pastry entrants to date.
"We encourage pastry chefs from all sectors of hospitality, chocolatiers and level 3 pastry students to enter this award. Whether they achieve the pass mark or not, everyone will get so much from the experience and see their skills and themselves grow during the process."
The Craft Guild of Chefs Graduate Awards wouldn't be possible without sponsorship from The London Meat Co, Oranka, Savoy Educational Trust, Reynolds, Meiko UK, Essential Cuisine, City and Guilds, Robert Welch, Continental Chef Supplies (CCS), James Knight of Mayfair, Worshipful Company of Cooks, CCE London Ltd, University of West London, Lakeland Dairies, Grande Cuisine, The Caterer, Maldon Salt, NOWAH and Wild Farmed.