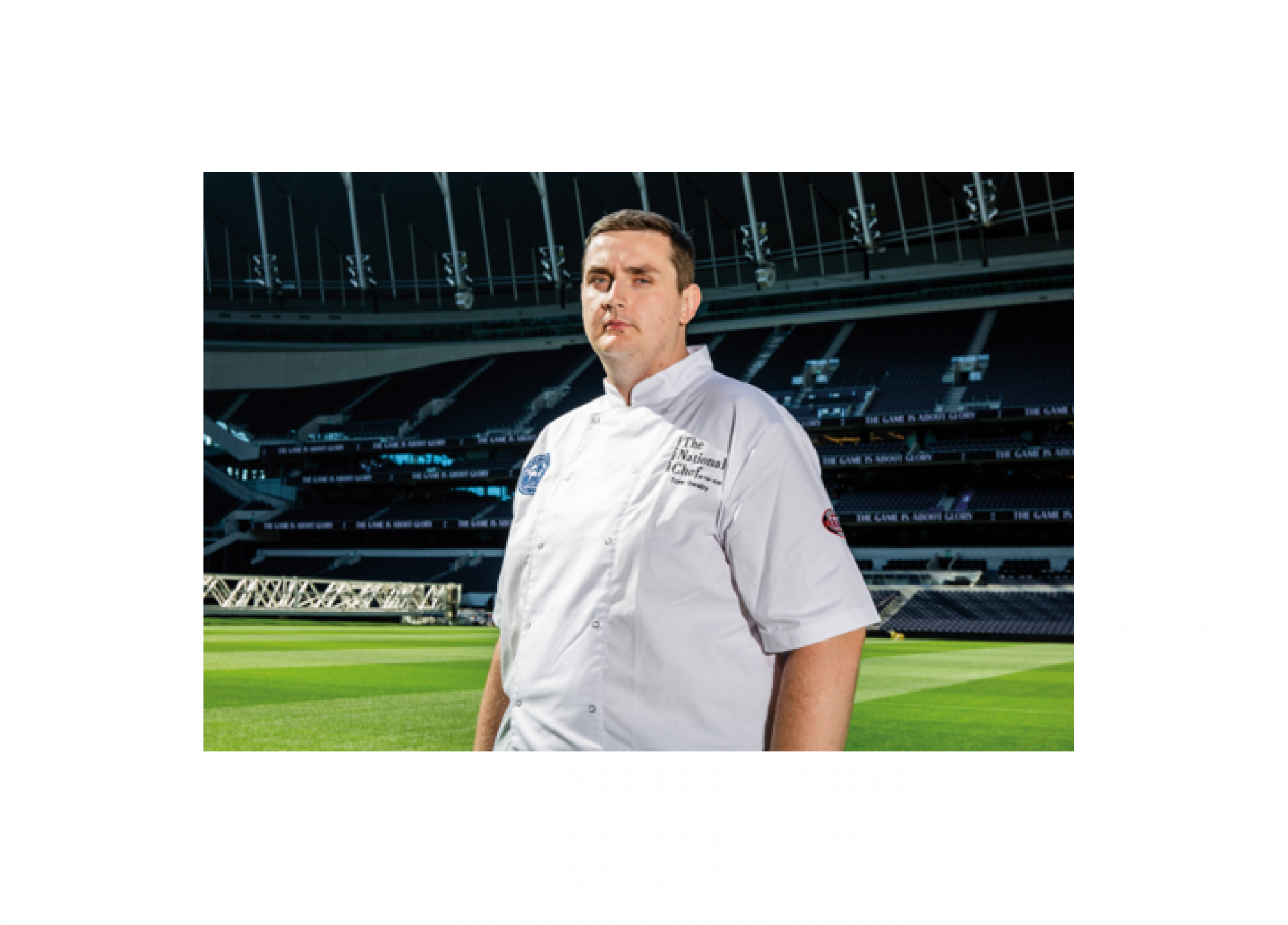 22nd October 2021
Thomas Swaby wins National Chef of the Year crown
Inverlochy head chef Thomas Swaby emerged triumphant from the final of the National Chef of the Year (NCOTY), which was held on September 30th at Cord by Le Cordon Bleu.
This year's NCOTY winner finally got to celebrate on October 21st at a VIP red-carpet premiere at the Everyman Broadgate cinema in London. Judges made their decision after what they called 'one of the closest ever battles for the National Chef of the Year title'.
A special highlights package was screened for attendees, judges, media, sponsors and the finalists before the results were announced.
Swaby wowed the judges with his stunning three-course menu:
Starter: roasted maitake chawanmushi, mushroom ketchup, roasted maitake, nasturtiums, pickled enoki and mushroom tea.
Main Course: British suckling pig with Orkney scallop, burnt apple puree, spinach, Chardonnay vinegar mash, apple, shallot and pig sauce.
Dessert:  sticky toffee pudding
Formerly head chef at Inverlochy Castle, Fort William, which is where he was working when he entered the competition, Swaby will shortly be taking up what he calls a 'new and exciting role in the Caribbean' for six months.
Commenting on his victory, Swaby said: "Earlier this year, Paul Ainsworth created a thought-provoking brief which tackled many important issues. I was most excited about the Future 50 Foods starter as the pandemic has encouraged us to find new ways of cooking and eating and it's important we all address the issue of sustainability.
"The National Chef of the Year is the most prestigious cooking competition in the UK and that is reflected in the quality of the judges we cook for, so winning this title is an absolute privilege."
The brief for the final was for each chef to tell their story of the pandemic through food. Menus had to include a vegetarian starter incorporating ingredients on the Knorr Future 50 Foods list.
These ingredients have been identified with the support of the WWF as having a positive impact on the environment, by improving the diversity of the crops we consume as well as having excellent nutritional credentials.
For the main course the finalists were encouraged to focus on supporting British suppliers on land and at sea with a dish incorporating both meat and fish. Deserts, meanwhile, had to reflect the start of the pandemic, when ingredients were sparse, and households turned to baking for comfort.
Chair of Judges, Paul Ainsworth, commented: "When I set this brief, it was hard to know what kind of dishes we'd be tasting at the final as the criteria was so personal to each chef, all of whom are on their own culinary journey.
"I left it open to interpretation as I wanted to see how the chefs demonstrated their style of cooking, personality, and creativity. This not only led to some amazing cooking, but these menus will truly go down in history, highlighting the incredible culinary talent we have here in the UK.
"Choosing the winner went down to the wire but Thomas gave us everything we were looking for; three delicious and stunning plates of food, a real focus on sustainability and loads of passion coming through his dishes."
Finishing very closely behind in second place was Adam Smith, sous chef at Gravetye Manor with Ben Boeynaems, executive chef at The Beaumont Hotel, London completing the top three.
Vice-President of the Craft Guild of Chefs and food innovation & sustainability director for Sodexo UK and Ireland, David Mulcahy, added: "Whilst running a competition during a pandemic has been challenging, it's led to some exciting changes which have improved the overall experience for the competitors.
"Holding the final behind closed doors, ahead of a VIP screening, created a calm, more relaxed and focused final which gave chefs and judges the time to absorb everything and look at every detail. We carefully selected a dynamic team of judges some of whom have been part of the panel for many years, for others it was their first experience of the event. The twelve menus and impressive finalists created a real buzz in the kitchen with lots of debate on such a diverse range of dishes."
As well as the NCOTY title, Swaby takes away some incredible prizes and opportunities to enjoy over the next year, including:
As headline sponsor, Knorr Professional will support Thomas with the opportunity to create his own digital recipe book as well as receive a media training session or provide a £7,500 prize fund towards his own development project.
Exclusively designed winners plate framed together with the winner's medal as well as an additional prize of £500 worth of Churchill product.
A culinary trip from CCS (Continental Chef Supplies) alongside former winners of National Chef of the Year which will provide an inspiring celebration of the UK hospitality and food industry. It will include exclusive Michelin-star fine dining meals at some of the UK's most acclaimed restaurants plus unique artisan producer and heritage farm visits and activities.
A Dick Premier Plus 11 Piece Knife Set with Roll bag.
NCOTY finalists included:
Marc Billings, head chef, Prestwold Hall and Hall Barns at Prestwold, Leicestershire
Ben Boeynaems, executive chef, The Beaumont Hotel, London
Ross Brown, chef de partie, BaxterStorey, London
Iain Gourlay, head chef, Cringletie House Hotel, Scottish Borders
Elliot Hill, head chef, Panoramic 34, Liverpool
Christopher Niven, executive chef, Marine North Berwick, East Lothian
Russell Plowman, senior sous chef, Restaurant Andrew Fairlie, Perthshire
Stefan Sewell, head chef, RAF, Suffolk
Jack Shaw, head chef, Lexington Catering/ Savills, London
Adam Smith, sous chef, Gravetye Manor, Sussex
Thomas Swaby, head chef, Inverlochy Castle, Fort William
Gary Townsend, head chef, 1 Devonshire Gardens, Glasgow
The National Chef of the Year is held in partnership with Knorr Professional and supported by: CCS; Churchill; Rational; Valrhona; Le Cordon Bleu.
Chefs and industry friends can see what happened in the final by watching the show on the National Chef of the Year website at http://www.nationalchefoftheyear.co.uk.