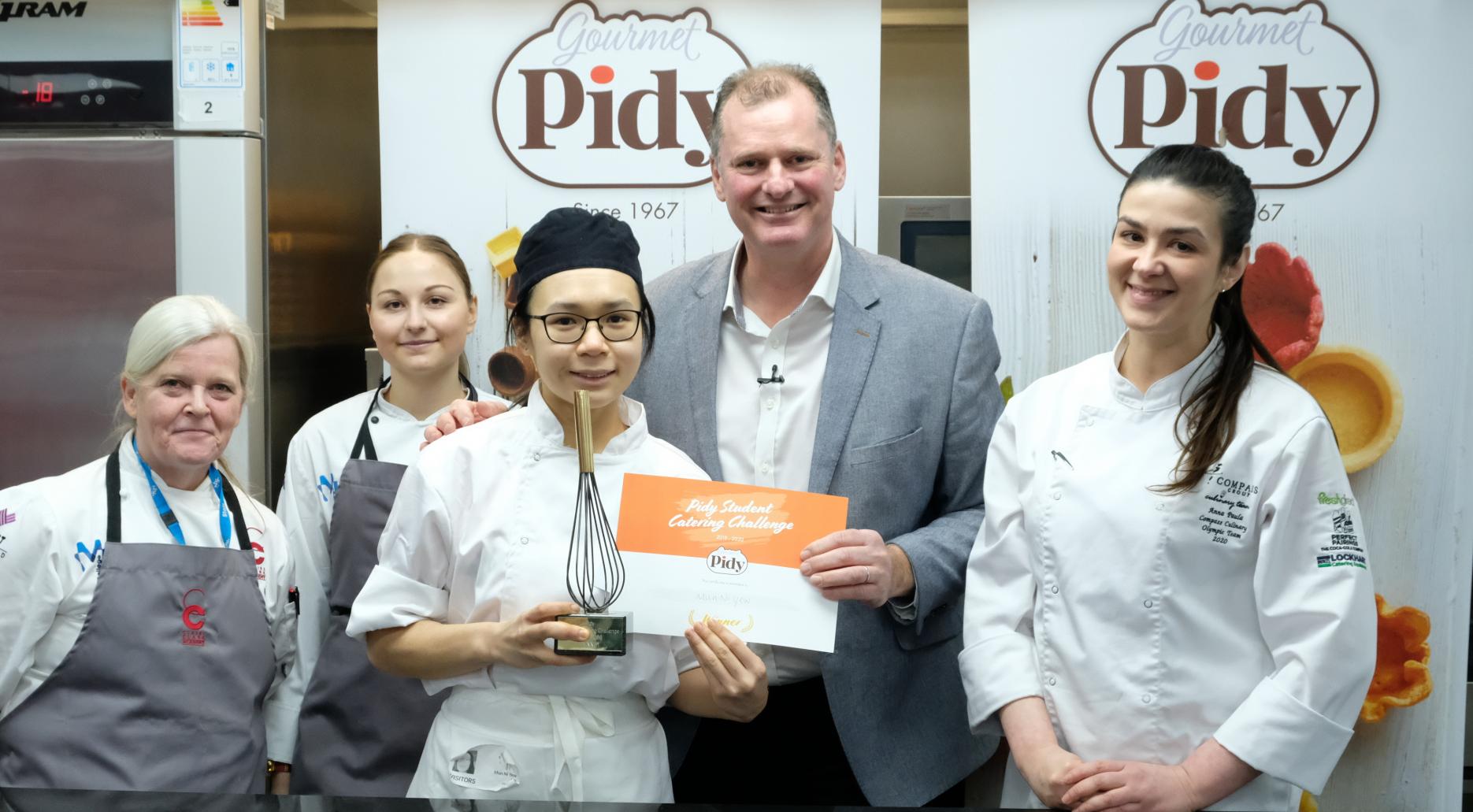 4th February 2020
Student from Walsall College wins Pidy Student Catering Challenge
Belgian pastry specialist Pidy has announced that Mun Ni Yew from Walsall College won the title of 'Best Afternoon Tea' at the Pidy Student Catering Challenge final cook-off, which took place at Claire Clark Academy in Milton Keynes.
Yew competed against five other finalists and it was her international-inspired take on the quintessential afternoon tea that won the competition for her. 
She said: "My aim was to create an afternoon tea that includes some of the best flavours and dishes from around the world, while still keeping in line with the elegancy and tradition of British Afternoon Tea.
"I wanted to update and make it modern in my own way. Each element was inspired by a different country, as well as adding my own twists to classic recipes. For example, I made a Malaysian chicken and potato curry instead of a traditional coronation chicken, which was inspired by my upbringing and family. 
"All of the contestants did amazingly and I never imagined I'd be the winner today. It's the first competition I've entered and the whole experience has given me so much confidence and inspired me to follow my dream of becoming a pastry chef in the future."
The joint runners up were Alex Buckby from Dudley College and Clare Turner from London Geller College of Hospitality & Tourism. 
Students were challenged to reinvent the tradition of afternoon tea using sweet and savoury elements, prepared in just one hour. Yew's afternoon tea consisted of four tartlets that represented different countries. 
Her winning menu consisted of: 
Malaysian chicken, potato and egg curry tartlet which was inspired by Yew's heritage and provided a new take on coronation chicken that was packed with Nanyang flavour. 
Savoury tart combined avocado, smoked salmon, cucumber and crispy bacon for a refreshing balance of British flavours. 
Double chocolate and raspberry tartlet (French cuisine). 
An innovative take on the classic Italian dessert tiramisu.
The judging panel included Ana Paula Oliver group pastry chef for Restaurant Associates and Bake Off Creme de la Creme contestant; Andrea Ruff course team leader for Patisserie at Milton Keynes College and winner of the Craft Guild of Chefs 'Chef Lecturer Award' 2019 alongside Robert Whittle, managing director at Pidy UK and last year's winner, Chloe Hammond.
Whittle added: "This is the third competition for Pidy and it was great to see how the students took on the new brief and really pushed their practical and creative ability to the max. 
"The range of Pidy tartlets were the perfect canvas and each student transformed them into completely unique creations, which they should be very proud of.
"Our goal for these competitions is to engage with the next generation of chefs and encourage them to showcase their creativity and skills to the wider industry. Everyone did so well and we can't wait to see where the competition takes them next!"