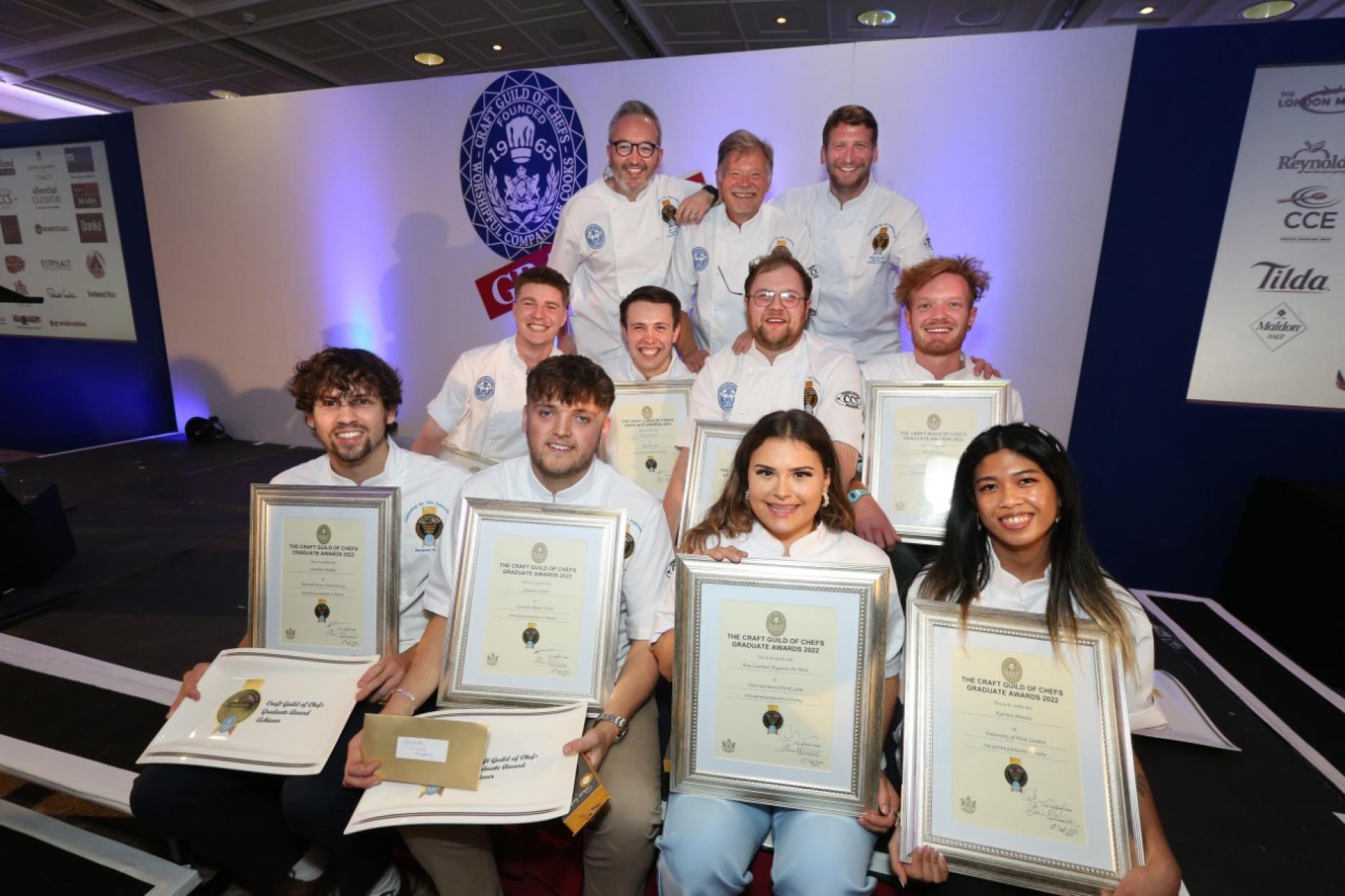 19th April 2023
Craft Guild of Chefs extends entry deadline for 2023 Graduate Awards
The Graduate Awards entry deadline has been extended by one week to 26th April 2023, giving more young chefs the chance to hear about the award and enter.
Chefs aged under 25-years-old have been given an exciting opportunity to develop their culinary skills and push themselves into the spotlight.
The Graduate Awards will remain open until midnight on Wednesday 26th April and it only takes a few minutes for chefs to enter using this online entry form. There are opportunities to get involved with either the Kitchen or Pastry Exam.
Those who make the semi-final will have the chance to cook for current National Chef of the Year Ben Murphy who is chair of examiners in the Kitchen section and senior brand development chef at Waitrose, Will Torrent who heads up the Pastry Award.
As part of this announcement, the Guild has revealed seven key reasons to get involved this year:
Now in its 21st year, the Graduate Awards has become one of the most sought-after events for young chefs who are looking to take on a new challenge. It's been known to open doors and many of the previous achievers have gone on to win some of the most sought-after titles and gain Michelin stars.
93 chefs have already achieved the Graduate Award and the Guild is hoping to take that number past the 100 mark this year, so the committee are looking for the best young chefs to enter.
Whatever stage of the award you get to, the Guild hears many stories about how the event has helped candidates to grow both personally and as a chef. This is down to the mentoring and support which young chefs receive during the competition.
All finalists will be taken on a two-day food experience in Suffolk where they will meet local suppliers, learn more about the tasks for the final with demonstrations from experts and have time to socialise with like-minded chefs.
The Graduate Awards has a dedicated marketing and PR campaign, and the Guild regularly shares updates from those who are involved so it's a fantastic way to push yourself into the limelight.
Those who achieve the Kitchen Graduate Award are invited to compete in the Young National Chef of the Year semi-final which has crowned winners such as Luke Selby, Ruth Hansom and Ben Champkin.
One of the key things which chefs who have completed the awards talk about is the friendships they make along the way. It can be so valuable to connect with chefs outside your workplace who have similar ambitions and are the same age and stage of their career as you
Founder of the Graduate Awards and vice-president of the Craft Guild of Chefs Steve Munkley said: "We've had a fantastic response to the Graduate Awards this year but by extending the deadline I wanted to do one final push to make sure as many talented and ambitious young chefs have heard about it and entered. I know what a difference it can make to not only a chef's career but also their own personal growth.
"As someone who has put members of their own brigade through it too, I see the impact it can have on retention and helping to improve classic culinary skills. I'd encourage all senior chefs to share this with their teams and support team members through the process."
The Craft Guild of Chefs Graduate Awards wouldn't be possible without sponsorship from The London Meat Co, Oranka, Savoy Educational Trust, Reynolds, Meiko UK, Essential Cuisine, City and Guilds, Robert Welch, Continental Chef Supplies (CCS), James Knight of Mayfair, Worshipful Company of Cooks, CCE London Ltd, University of West London, Lakeland Dairies, Grande Cuisine, The Caterer, Maldon Salt, NOWAH, Wild Farmed, Villeroy & Boch and Daregal Gourmet.