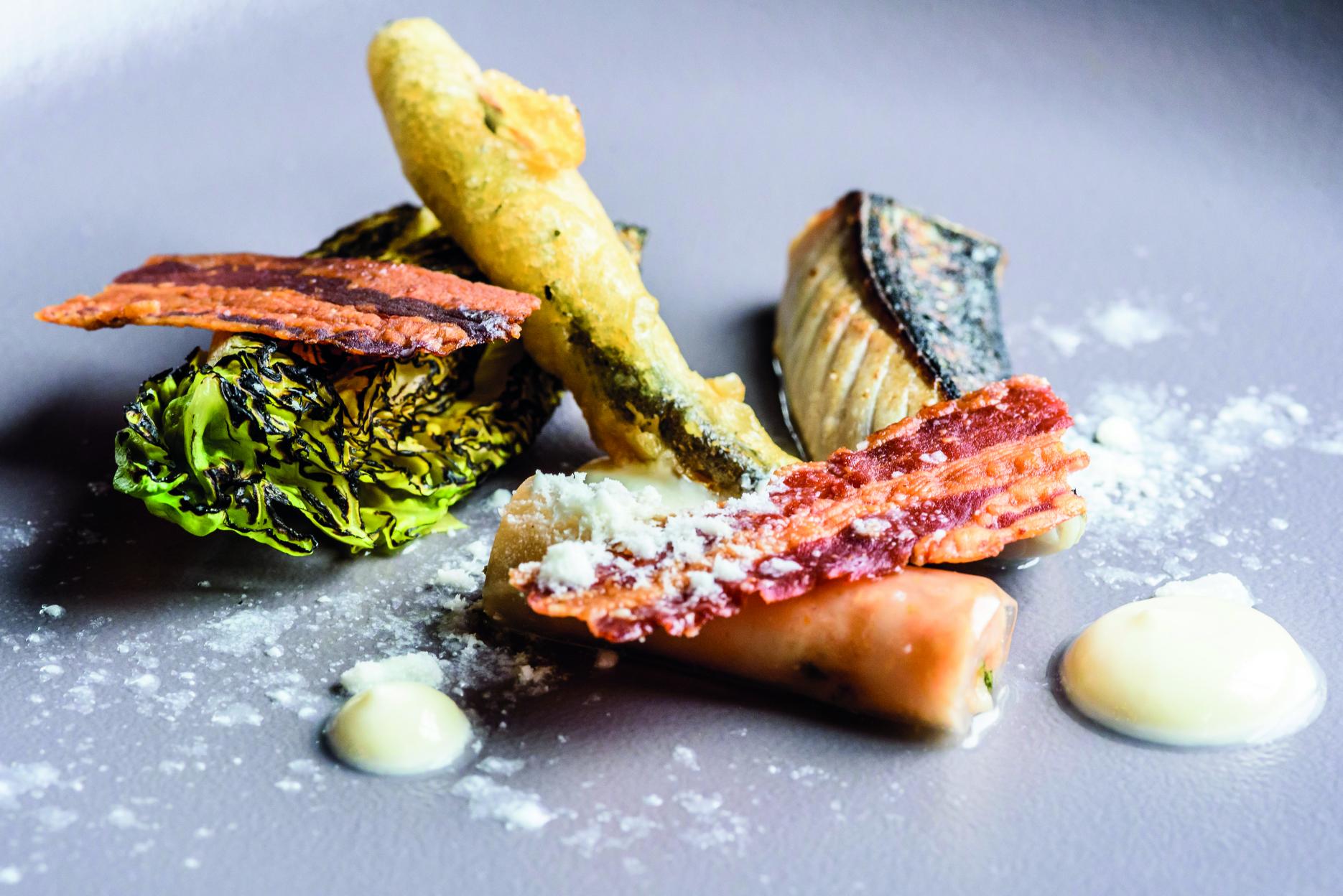 14th June 2018
By Steven Edwards, chef proprietor Etch, Brighton
Serves 4
FOR THE MACKEREL:
2 x 150g mackerel fillets
Caster sugar
Table salt
TARTARE SAUCE:
25g chopped capers
1g chopped flat leaf parsley
2g chopped chives
25g fine diced banana shallot
5g Worcestershire sauce
20g mayonnaise
10g wholegrain mustard
BEER-BATTERED WHITEBAIT:
FOR THE LETTUCE:
1 baby gem lettuce
Pomace oil
Table salt
FOR THE GARLIC MAYO:
50g pomace oil
1 garlic clove, peeled
1 egg yolk
2g lemon juice
2g English mustard
1g Maldon sea salt
FOR THE SNOW:    
200g grated Twineham Grange
400ml water
Salt
Lemon juice
CRISPY PANCETTA:
4 thin slices of pancetta
Preparation method
FOR THE MACKEREL:
Roll the mackerel fillets in a 50/50 mix of caster sugar and table salt. Leave on a tray in the fridge for 20 minutes then wash off and pat dry with a clean kitchen cloth. Remove pin bones and quarter each fillet into 30g portions. Remove the skin of the four belly portions and dice finely.
Bind with tartare sauce (see below), roll in cling film, set in fridge then portion into 4.
To order: Rub oil onto the skin of the head quarters and blowtorch the skin until crispy and brown. Do this quickly so as not to overcook fish.
TARTARE SAUCE:
Mix all ingredients together
BEER-BATTERED WHITEBAIT:
Roll in plain flour and dip in a beer batter. Fry at 180°C for 2 minutes until golden brown and crispy.
FOR THE LETTUCE:
Quarter the baby gem lettuce through the root and wash off thoroughly in iced water.
Drain and pat dry with a clean kitchen cloth. Rub with pomace oil and season with table salt.
Blowtorch until brown and serve 1/4 per portion.
FOR THE GARLIC MAYO:
Heat the oil and garlic clove to 90°C for 30 minutes in a water bath. Drain off (saving the oil) and add the garlic to a mixing bowl.
Use the back of a spoon to break down the garlic clove into a purée and add all ingredients except the oil.
Whisk the ingredients and slowly add the saved oil until the mixture is thick and glossy.
FOR THE SNOW:    
Heat the water to 80°C and pour over the grated cheese.
Whisk and adjust seasoning with salt and lemon juice.
Freeze at -22°C for 12 hours then process in a Pacojet or pass through a mouli to achieve a granita texture.
CRISPY PANCETTA:
Line a flat tray with baking paper. Lay the pancetta slices neatly on the tray and place another sheet of baking paper on top. Place a flat tray on top and cook in the oven at 180°C for 12-15 minutes until brown and crispy.
Remove the tray from the top and lay the crispy pancetta on a cooling wire.
TO SERVE:
Blowtorch mackerel and lettuce (one piece of each per portion). Place mackerel tartare wrapped in jelly on plate.
Add the torched mackerel and lettuce either side of the tartare.
Place garlic mayo into a piping bag and pipe three dots. Add one pancetta crisp (two halves).
Now batter the whitebait and lean up against the lettuce.
Sprinkle Twineham Grange Snow over the top.