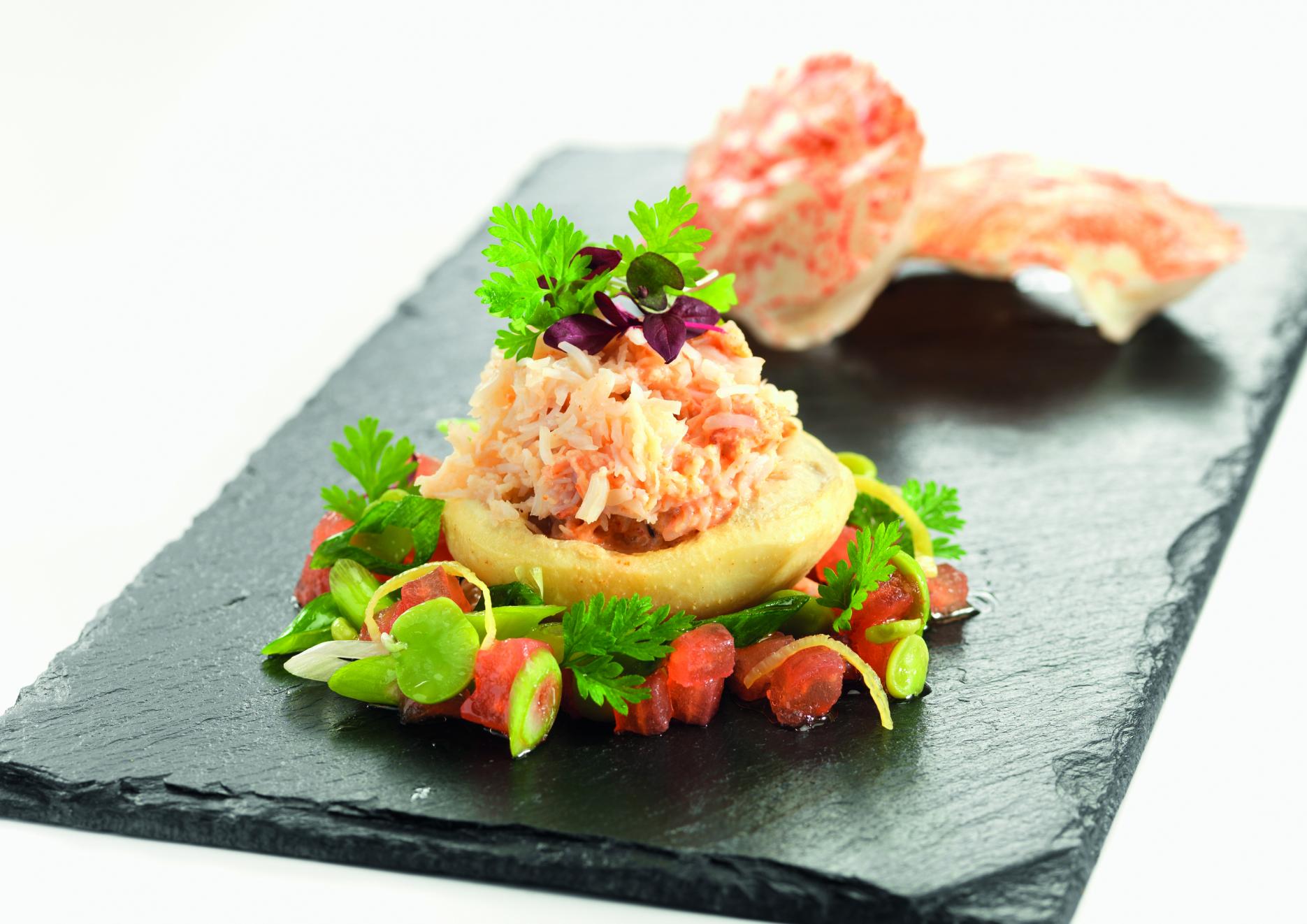 14th June 2018
FOR THE GLOBE ARTICHOKE:
4 globe artichokes
2 lemons
20g fresh chervil (optional)
1g sea salt
40g butter
SALSA:
4 plum tomatoes (for 90g of tomato concasse)
70g fresh broad beans, removed from their pods
20g spring onions
1g smoked sea salt
1g coarse black pepper
25ml smoked olive oil
10ml tomato vinegar
1 lemon
40g fresh chervil
BROAD BEAN HOUMOUS:
100g blanched and peeled broad beans
2g fresh mint leaves
Juice of ½ lemon
20ml cold pressed rapeseed oil
Pinch of salt
Pinch of cracked black pepper
CRAB MIXTURE:
40g brown crabmeat
30ml crème fraîche
10ml single cream
0.5g sea salt
0.5g crushed black pepper
Juice from one lemon
80g picked white crab meat
0.5g smoked paprika
GARNISH:
Chervil sprigs
Micro purple shiso
Preparation method
FOR THE GLOBE ARTICHOKE:
Clean the artichokes. Trim and prepare the bottoms only. Place in a bowl filled with cold water and add the juice from one lemon. Take each artichoke and place a slice of lemon, 5g chervil, a pinch of sea salt and 10g butter on each one.
Place into a vac-pac bag and seal on full pressure. Heat the water bath to 85⁰C.
Add the artichokes and cook for one hour until soft and tender but not mushy.
SALSA:
Scorch the plum tomato skins with a blowtorch until charred and blistered. Brush off the skin with a paper towel or clean cloth. Do not immerse in water. Deseed the tomatoes and cut into 5mm dice.
Blanch the broad beans. Refresh under cold running water and remove the outer skin.
Clean the spring onions. Slice each at an angle to approximately 5mm thick.
Place the tomatoes, broad beans and spring onions into a kilner jar or stainless steel bowl and add the salt, pepper, smoked olive oil and vinegar. Seal the jar and gently shake to mix the ingredients.
If using a bowl, stir with a spoon. Using a smoking gun, add smoke to the jar and seal it well afterwards in order for the smoke to infuse with the salsa. Repeat once or twice more.
If using a bowl, cover tightly with cling film, then make a small hole and insert the pipe from the gun. Cut long julienne strips from the lemon skin. Pick off the leaves of the chervil and keep in cold water until ready to use.
BROAD BEAN HOUMOUS:
Blend all ingredients together using a food processor or stick blender. Check seasoning and adjust if necessary. Add a little more oil if the mixture is too thick.
CRAB MIXTURE:
Make a mix using brown crab, crème fraîche, cream, salt, pepper and lemon juice.
Add white crab to the brown crab mix. Add a pinch of smoked paprika. Check seasoning and adjust if necessary.
TO FINISH:
Re-heat the artichokes in the water bath or oven for a few minutes, until just above room temperature.
Place the smoked salsa around the artichokes, adding the lemon zest and chervil.
Spoon a small amount of the broad bean houmous into each artichoke bottom.
 Cover each pile of houmous with the crabmeat mixture. Garnish with chervil sprigs and micro purple shiso.